South Africa has earned a prestigious reputation as one of the top wine countries in the world. A relatively new addition to the worldwide wine market, the country has proven time and time again that it produces top-quality wines, thanks to its many global accolades.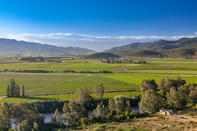 ©Chris Daly
The South African Winelands are breathtakingly beautiful.
In the South African Winelands, there is constant interplay between the ancient geology of the land, the valleys, the mountain slopes on which most of the vineyards are planted, and the coastal breeze that sweeps through the landscape. It has resulted in an extraordinary biodiversity, that allows for a large variety of wines to be produced in the country.
The Mzansi Winelands are nothing short of spectacular - beautiful vineyards nestled in valleys, elegant farm manors, dating back to the 18th century, breathtaking views of SA's natural scenery and fabulous wine tasting experiences are some of the things you can expect from any of the country's wine regions.