The quaint little town of Garies, pronounced with a hard 'g', is a popular stop on the Kamiesberg Flower Route. Although the town might be small, it has lots of local charm.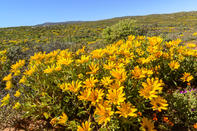 ©Roger de la Harpe
Magical displays of Namaqualand daisies during springtime at the Skilpad Wildflower Reserve near Garies.
The town was first established in 1845 when the land was given to the Dutch Reformed Church by the owner of the farm Goedeverwagting. Originally named after the farm, former Cape premier John X Merriman gave the town its current name - the Nama word for 'couch-grass' (Cynodon dactylon), which grows in the stream near the town.
The town of Garies consists of one long street with a church, a cluster of houses and shops that are built on the banks of the stream. There are multiple lodging options, including guesthouses, B&B's and farm stays. Flower-spotting is popular in springtime, with guests pouring into Garies and surrounding towns to view the magnificent display of Namaqualand daisies and colourful assortments of flowers along the roadside.
The Skilpad Wildflower Reserve is located just west of the town of Garies and forms part of the Namaqua National Park. The reserve was established by the World Wide Fund for Nature (WWF) in 1988 to protect and conserve the Namaqua Floral Kingdom....
more