Excised from Sabi Reserve
The Sabi Sands Reserve is located in the south-west of the Kruger National Park, close to Skukuza. This 65 000 hectare piece of land, bordered by the Sabie and Sand rivers, was once part of the old Sabi Reserve but it was excised in 1926 and handed over to private landowners in exchange for their former properties inside the new national park.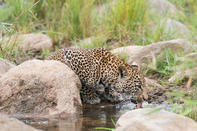 ©Shem Compion
Leopard drinking, Sabi Sands.
Nineteen farms in the Sabi Sands area were subsequently surveyed and given incongruous European names, such as Toulon, Exeter and Eyrefield. Most of the new farm owners set up cattle ranching and hunting operation, but there were some exceptions.
Two nature enthusiasts, Charles Varty and Frank Unger bought one of the farms, Sparta, and built a camp on the river banks. Then, there was a wealthy sugar baron named William Campbell who bought the main camp of MalaMala ('sable' in XiTsonga) and built a private hunting lodge on the property.
Preserving the Balance of Nature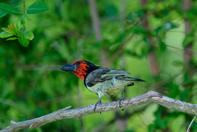 ©Shem Compion
Black Collared Barbet.
Whatever their original plans, the beauty of the Lowveld soon won over the new residents, and in 1934, fourteen landowners met at MalaMala and decided to form the Sabi Sand Game Reserve. They appointed a ranger and committed themselves to preserve the balance of nature on their land.
The reserve flourished and slowly opened itself up to visitors. MalaMala took its first guests in 1962 (and was bought two years later by the Rattray family, who run it to this day). Londolozi (run by the famous Varty's) opened in 1965, as did Sabi Sabi. Other luxurious lodges followed suit and, today, the Sabi Sand reserve is filled with some of the plushest bushveld retreats in South Africa.
At first, there were no fences between Sabi Sand and the Kruger National Park. In 1961, however, the threat of foot and mouth disease prompted the erection of a fence between the two reserves. Another fence was also built along the western border of Sabi Sand to prevent game moving into the native settlements, and vice versa.
This greatly disrupted the normal east-west migration of the animals. After lengthy discussions, the internal fence between Sabi Sand and the Kruger Park came down in 1993.
By
David Fleminger