African Wilderness made into Farms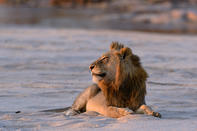 ©Shem Compion
Kruger Lion sunning in a dry river bed, Sabi Sands.
The area that is now known as Sabi Sands was originally surveyed by WH Gilfillan. Despite the area being situated deep in the African wilderness, he gave the farms European names such as Nantes, Toulon and Alicecot.
These farms were sold to various owners, one of whom was the Transvaal Consolidated Land and Exploration Company. Some of the owners, like the Company, used the land for ranching, while others used it for shooting game. One of the farms, Sparta, was bought by Frank Unger and Charles Varty in 1926.
The two friends, who were both engineers and nature lovers, built a camp on a site overlooking the Sand River, which they used as a winter getaway. The farms of Eyrefield, Malamala and part of Marthly was bought by William Alfred Campbell of the Natal Sugar Estates in 1927. He built a lodge on Malamala that was used as a winter hunting resort for his family.
From Farm to Resort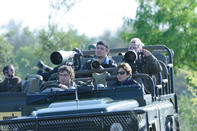 ©Shem Compion
The remaining farms were sold to various other owners. In 1934, many of these owners came together to form the Sabi Private Game Reserve. They appointed Donald Kirkman as a full-time ranger.
Before this, Kirkman was the manager of the Toulon cattle ranch. Toulon was owned by the Transvaal Consolidated Land and Exploration Company who decided to stop ranching and sold their farm to Mrs ME Whitehead, the owner of two other farms, Flockfield and Charleston.
Toulon was later bought back by Stephen Roche. At the end of World War II, the owners named the reserve Sabi Sands Wildtuin. They named Campbell as president and Roche as chairman. In 1962 Campbell died and his son, Urban, took over ownership.
Urban opened the Malamala farm to visitors and two years later sold the property to Loring Rattray, another landowner in the area. It was the Rattray family that saw the development of Malamala from a private family farm to the internationally acclaimed game-viewing resort that it is today.
Following the success of Malamala, the Rattrays opened two other resorts named Kirkman's Camp and Harry's Huts.
Proclaimed a Private Nature Reserve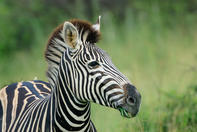 ©Shem Compion
Zebra, Sabi Sands.
Three years later, in 1965, the Sabi Sand Wildtuin was proclaimed a private nature reserve. Harry Kirkman (cousin of the first warden, Donald Kirkman) was appointed warden of the area.
With its new status as a private nature reserve, Sabi Sand improved its roads and facilities and the two game-viewing lodges were opened to the public.
They were Londolozi and Sabi Sabi. Londolozi was on the Sparta farm, which was owned by the Varty family. Sabi Sabi opened two lodges, named Bush Lodge (on Loodswaai farm) and River Lodge (on Kingston farm).