Wind Explained
A West Coast fisherman lives and dies by the wind. Take the easterly - it sweeps across the Karoo, traverses the Cape mountains, creeps up behind that wispy filament of sand which divides continent from ocean and heads inexorably out across the Atlantic. It might easily take a boat out with it, losing its skipper and crew in that formidable expanse of ocean.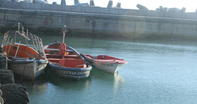 ©Leonie Joubert
Fishing boats of Lamberts Bay
That's the dangerous one. Then there's Aunt Sophie - the south-easter. Billowing up across the murky waters, her skirts aflutter, she brings the coldest waters to the one nautical mile zone in which these fishermen take their thimble-sized wood and fibreglass bakkies (as in "little tubs").
The fish don't bite when she's at work. North-westerly winds bring the smell of rain, followed by the usual winter front, with the predictability of a metronome. But it's the northerly that the fishers of Lambert's Bay covet most. That's the one which stirs up warmer waters. When the temperate currents run, the fish bite. Hottentot fish, snoek, stumpnose, red roman, carpenter. Ample and abundant; fish by the bucket load.
Post-Apartheid Transformation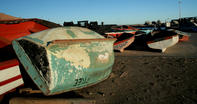 ©Leonie Joubert
Fiberglass fishing boats, Lambert's Bay
Ernest Titus was born into a century-old fisher tradition along the Cape West Coast, one of the biologically richest and most productive of the world's fisheries. But the complexity of post-apartheid transformation within the industry, and the minefield of policy which has tried to apportion rights to different parties has all but pinched off the access to a natural space which these fishers assumed was part of their backyard.
Prior to 1994, mostly white-owned enterprises held the fishing quotas - less than 300 in all - giving each a fixed allowable annual catch. Traditional fishermen, some of whom owned their own boats, fished on behalf of the quota holders.
Quotas Reallocated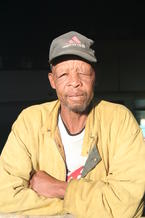 ©Leonie Joubert
The Have nots - George Barnard did not get awarded a quota.
When the new long-term quotas were allocated in 2006, many traditional fishers, who had learned from their fathers and were mentoring their sons, were excluded from the only way of life they had known. Some lost out because they could not afford the R300 non-refundable fee required with each application.
Others, many of whom are illiterate Afrikaans-speakers, found the complicated application forms, which are written in English, entirely impenetrable. Some resented the fact that other previously disadvantaged groups received quotas even though they have no historic connection with the fishing industry. "It's as if our hands have been cut off," Ernest says,somewhat mournfully, holding up his appendages without a hint of melodrama.
The Lucky Ones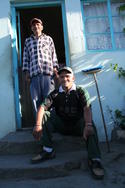 ©Leonie Joubert
The Haves - Ernest Titus(seated) and neighbour, Hennie van Wyk, recieved 10 year fishing quotas.
Ernest was one of the lucky ones. He got a quota for West Coast rock lobster. His neighbour, Hennie van Wyk, got one for line fish. But George Barnard, who lives nearby, didn't secure either. Now the only way George can gain access to the sea is if one of the quota holders employs him to work as a crew hand.
Where neighbours and friends once worked together as peers, now one is the boss and other, the labourer. Those that can't get to sea on the artisanal bakkies sign up on the commercial trawlers or long-line boats. It's either that, or get a job in construction or manning one of the lines in the potato factory which now resides in the pierside building where a thriving fish cannery once operated.
Poaching and Drugs
For those who refuse to give up their access, there is one more option: poaching. And because the people buying poached fish and lobster are usually linked to powerful Cape gangs, this has tarred a straight and formidable highway into Lambert's Bay along which the methamphetamine, "tik", travels. Social despair and associated drug and alcohol abuse have climbed recently and while no formal count has been done to link quota limitations with poaching and drugging, the suggestion is there.
One man admitted to making R3 000 in one night, with poached lobster. Ernest's quota allows him to take 750kg of lobster from the ocean each year. In the 2005/06 season, he filled that quote in eight days and made close to R70 000. That tied up his work for the year - Lambert's Bay doesn't offer much else by way of work for him. The following season he wasn't able to fill his quota before the season ended.
By
Leonie Joubert