Farmers in South Africa face changes on a daily basis and need to be able to adapt and manage droughts, escalating fuel prices, instability in market conditions and labour issues.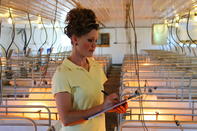 ©Courtesy of National Pork Board and the Pork Checkoff. Des Moines, IA USA
Farmers need to be able to both farm and manage.
Farm management skills such as decision-making, recordkeeping and understanding farm finances can go a long way in creating resilient farmers, able to plan ahead to weather the storms of farming.
This section, helps new farmers to understand principles such as 'what is farm management?', 'how to do farm recordkeeping?' and 'how to make decisions?'. Content is sourced from training material for extension advisors developed by a team of consultants lead by the University of Pretoria.
Researchers include Dr Joe Stevens, Pieter van Heerden and Prof MC Laker. The project was funded by the Water Research Commission (WRC).