'Republic of Hout Bay'
"Hout Bay is one of the most beautiful areas in the world" - say the proud locals, who refer to themselves as living in 'the Republic of Hout Bay'. From Llandudno, Victoria Road leapfrogs over a low nek and winds down into the self-styled Hout Bay.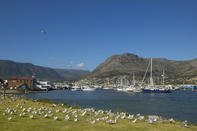 ©Roger de la Harpe
View of Hout Bay Harbour, Western Cape.
With its small fishing harbour and large township, Hout Bay is a beautiful place to explore. The traditional centre of town is the old harbour pier.
From here you can catch a ferry to see the seals on Duiker Island, you can stroll along the beach, or you can buy some fresh' fish' from Mariners Wharf, reputedly the first harbour-front emporium in SA. On the other side of the beach, there are a number of retail developments that offer restaurants, galleries, craft shops and every other sort of tourist necessity.
Hout Bay Museum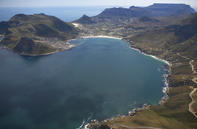 ©Roger de la Harpe
View showing the large scallop-shape of Hout Bay, Western Cape.
For the Historically Minded, Hout Bay has two forts and a museum. These forts, one on either side of the Bay, have recently been restored and now boast working cannons - just in case the Americans try to invade. Additionally, there are horse rides in the vicinity, as well as the well-known World of Birds.
The beach itself is lovely, but the water's bloody freezing and the wind can be fierce. One of the main attractions at Hout Bay is actually the scenery. This large, scallop-shaped bay is surrounded by mountains, with just a narrow egress through the heads, to the ocean beyond. If you are facing the beach, you will have the Back Table behind you, Karbonkelberg and the Sentinel on your right and Chapman's Peak on your left.
By
David Fleminger