The Tshugulu 4x4 Eco-route
Although the Tshugulu eco-route is quite tough and rocky, it is not designed as an obstacle course for you and your machine. It is intended as a scenic, educational and game viewing route that should be driven at a leisurely pace. The eco-route is a good way to explore the lesser-known western side of the Mapungubwe National park and the drive takes in several lookouts and a game hide. The route is about 45 kms long and takes between 5 and 6 hours. There is a cost per vehicle, and you get an excellent booklet and map that details all the interesting things to see en route.
©Roger de la Harpe
Driving in the Mapungubwe Park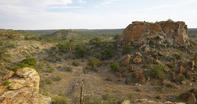 ©Roger de la Harpe
There are about 45 kms of roads in the park and they are all gravel or sand. Most of these roads are accessible for ordinary sedan cars, but you will benefit from a good suspension and bit of ground clearance. Low-slung sports models may not enjoy the experience. The surface of the road is graded periodically, but there are still a number of sharp stones on the roadway.
Watch out for punctures and make sure that your spare is pumped and your jack kit is working. There are several roads marked 4x4 only. These are not really that rough, but may prove to be problematic for cars with puny tyres. Note that there is no petrol available at Mapungubwe. The nearest filling stations are in Alldays (70km) and at Dongola Ranch (30km).
Go Left or Right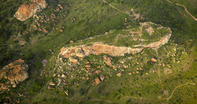 ©Roger de la Harpe
From the main gate of the Mapungubwe National Park, there are two main routes that you can take through the park. If you turn left towards Leokwe Camp, you can visit the Treetop Walk and Confluence View Site and Picnic Spot. If you turn left, you can access the Kanniedood and Khongoni game viewing loops and Poacher's Corner.
This part of the park also contains the attractive Schroda Dam and the ruins of an old fishing cottage on the banks of the Limpopo where Jan Smuts once stayed. Both of these attractions are off limits, but one hopes that they will developed in the future. Many of the roads in the parks are marked 'no entry'.
This is for a variety of reasons. Some of the land is still in private ownership, some of the roads lead to the private residences of park staff, and some of the roads are still being improved and will be opened once the environment has been stabilised.
By
David Fleminger