Hands Off the Environment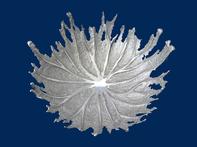 Forged from yesterday's waste, these recycled aluminium bowls are moulded around the vision of tomorrow. The artists aim to use their leafy designs to inspire change in the way materials are used in daily life and in art. This collection combines organic shapes with a metallic finish, commenting on the necessary unity of nature and the human species.
Make an impact on the future of endangered species by purchasing this eco-friendly piece with SouthAfrica.co.za.
Priced From: US$360