Kara Artistics is an environmentally conscious collective that creates one-of-a-kind bowls and sculptures from recycled aluminium and glass. Known for their clear point of view and ability to reshape used materials into renowned designs, the company is proud to represent all aspects of physical and mental spaces.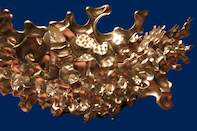 ©Kara Artistics
The Coral Collection bowl.
Their designs depict different species and their slow decline into extinction due to the human impact on their environment, and incorporates the psychology of human pride and the relentless pursuit of control over nature.
Kara Schoeman, creative force behind Kara Artistics, uses her knowledge of human cognition to craft functional art pieces that awaken the conservationist in every viewer, creating conversation around species on the brink of extinction. Kara's artistic vision is driven by foundry art; a trade that she adopted from her father, Stephen Schoeman.
Kara Artistics uses scrap aluminum metal such as engine parts to make strong visual pieces, giving it new life with an emphasis on recycling. Her goal is to create awareness around eradicating human's destructive impact on the environment. Situated in Bloemfontein in the Free State province of South Africa, the brand has gained national recognition from acclaimed art galleries, museums and festivals.
The brand aspires to influence the narrative around an eco-conscious lifestyle and shape the idea of sustainable design in harmony with contemporary art. Whether you are looking to redecorate your living space or gift a loved one with a unique artwork, Kara Artistics has the perfect design for you.