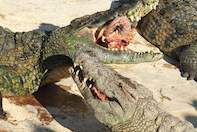 ©Ad Meskens
Nile crocodiles, (Crocodylus niloticus), feeding.
Crocodiles are meat-eating reptiles, hunting at night and living in rivers and swamps in warm tropical regions of the world. They are adapted to live in water, swim with webbed feet and float by regulating the air in their lungs, thereby exposing eyes and nostrils above the water surface.
In farming systems, crocodiles are kept in enclosures, fed and raised for breeding stock or to be harvested for their skins and meat, mostly from their boneless underbellies. Crocodile meat is mainly exported but is available in some niche restaurants in South Africa.
Other crocodile related products include fat, skulls, its musk and body parts.
In South Africa, mostly Nile crocodiles (Crocodylus niloticus) are used, the only crocodilian species that occurs naturally in South Africa. The Nile crocodile is also known as 'mamba' (Swahili), 'garwe' (Shona), 'ngwenya' (Ndebele) and 'kwena' (Tswana).
Crocodile farming can be a rewarding business but much time, money and expertise are required to produce the lucrative (and unblemished) super grade or first-grade crocodile skins used for luxury exotic leather products.
Due to cultural associations with the Nile crocodile for its spiritual power, religious metaphors and proposed healing potential, wild-caught crocodiles may often be killed and used for traditional medicines, food, aphrodisiacs and as a display of social and religious power.
The History of Crocodile Farming
Crocodile farming in South Africa began in the late 1960s, and due to the efforts of three pioneering families this grew in 1981, and almost 40 farms just over ten years later. Despite no official records, it estimated there are over 80 commercial crocodile farms in South Africa (2019).
Captive crocodiles are also kept on game farms and as tourist attractions. These facilities are often not registered as commercial crocodile producers. Commercial crocodile farms are in the Limpopo (40 %), North West (20%) and KwaZulu-Natal (15%) provinces.
South African Crocodile Industry Groups
In South Africa, Exotic Leader South Africa (ELSA) develops the standards for sustainable and competitive producing of exotic leathers and collaborates with the Exotic Leather Research Centre (ELRC) of the University of Pretoria (UP) which provides technical assistance.
Further technical and scientific assistance is rendered by Crocodile Health and Welfare at the UP's Onderstepoort Campus of the Faculty of Veterinary Science.
The South Africa Crocodile Industry Association (SACIA) represents all the participants in the industry and promotes the ethical production of crocodile products.
Many of the activities (research, development, workshops) are supported by funds from the Department of Trade and Industry (the dti).
World Crocodile Production
Crocodiles and alligators are farmed in a few countries in the world; mostly in the southern states of the US - Louisiana, Florida, and Georgia where the American and Chinese alligators are used. In Australia, saltwater crocodiles are used, while in Africa, the Nile crocodile is preferred. Some breeding of the smaller caimans is done in South America.
Saltwater crocodiles produce the largest skins, while the leather of the smaller New-Guinea crocodiles from crocodile farms in Papua New-Guinea are preferred for clothing. Australia produces about 60% of the world's crocodile skins.
South African Crocodile Production
Specific production figures for crocodile products are difficult to establish. The Convention on International Trade in Endangered Species (CITES), which regulates the sales of crocodile products, classifies any crocodile product under 'reptiles' which also include products from other reptiles such as snakes and lizards. In addition, the website does not differentiate between the export numbers of raw crocodile hides and tanned hides.
The total volume of crocodile skins and meat per year in South Africa is not officially available. Production data from 2016 - 2018 indicate some 72 750 crocodiles harvested per year, an estimated 75% of South African production.
According to CITES, South Africa exported on average just over 25 700 skins per year from 2011 to 2015.
In the period from 2005 - 2014 just over 519 900 Nile crocodile skins were exported from South Africa, according to a report on wildlife trade. Main markets for South African crocodile skins and skin pieces during this period were Italy, the Republic of Korea, Japan, Singapore, Japan and Belgium.
During this time (2005 - 2014) South Africa exported just over 863 tonnes of crocodile meat. The main markets of South Africa crocodile meat are Hong Kong (49%), Belgium (19%) and China (17%).
There seems to be a growing demand for crocodile meat amongst Xhosa and Zulu consumers in South Africa, with some 60 tonnes per year currently (2019).
By Marinda Louw