Airports Located Nearby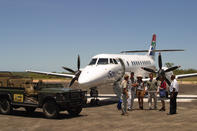 ©Roger de la Harpe
Guests arriving at Mala Mala Camp by aeroplane, Kruger National Park.
Flights to the Kruger National Park land at the Kruger-Mpumalanga International Airport (KMIA). It's located between Nelspruit and White River, about 50 km away from the southern Kruger National Park gates.
The flight from Joburg takes about 50 mins (1 hour from Durban and 2.5 hours from Cape Town). There are also smaller airports in Hoedspruit and Phalaborwa.
ATM and Banks in the Kruger
There is a bank and ATM at Skukuza rest camp and an ATM at Letaba. No other cash withdrawal facilities are available. You can, however, use your credit card (preferably Visa / Mastercard) to pay for food, accommodation and activities throughout the Kruger National Park. You can also pay for most accommodation and activities in advance.
Cellular Reception and Wi-Fi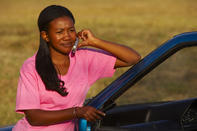 ©Roger de la Harpe
Guests can pick up calls at the major rest camps.
Thoroughly defying Maslow's traditional Hierarchy of Needs, our urgent desire to be connected at all times is now fundamental to life as we know it. Although the Kruger isn't really the place to stare at a smartphone, cellular reception is available in patches around the major rest camps (but don't count on high-speed data).By
David Fleminger