Popular Spots
The coastline of South Africa offers the holiday-maker the perfect opportunity to relax on the beach while enjoying a range of recreational activities.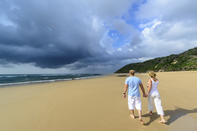 ©Roger de la Harpe
The South African coastline has various recreational activities that will suit any and all urban travellers.
The warm waters of the East Coast makes the KwaZulu-Natal and Eastern Cape provinces very popular spots for a range of watersports.
The West Coast has beautiful coastal hikes and mountain biking trails, as well as sporting activities. The whole coastline has a number of pristine beaches that are perfect for soaking up the sun, spotting marine life or frollicking in the waves.
The boardwalks, piers and streets of the coast exude seaside charm with quaint stores, small boutiques, surf shops, restaurants, coffee shops and local vendors. Ocean towns have a range of indoor activities on offer too, such as maritime museums and historical sites to explore.
Relax on The Beach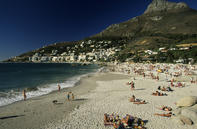 ©Roger de la Harpe
Clifton beach is one of Cape Town's most popular beaches.
From the West Coast's wild, deserted, sunbleached stretches of snow-white sand to the sub-tropical, coral-fringed, forest-backed beaches of Maputaland, South Africa has a beach for everyone. Near the cities of Durban, Port Elizabeth and Cape Town, there are long stretches of unspoiled coastline and, of course, fun urban beaches with every conceivable convenience and novelty.
In Cape Town, try Clifton for the fashionable set; Sandy Bay, the unofficial nudist beach, for the wouldn't-wear-fashion-anyhow set; and Long Beach for the walking. Boulders offers the very best swimming and a possible sub-aqua visit by a curious penguin as a bonus.
In Port Elizabeth, Hobie Beach is good for seafood cuisine, while Sardinia Bay offers miles of virtually deserted snow-white sand. East London's beaches tend to be well populated, but only a few kilometres from town there are some practically deserted ones. And the whole city of Durban is really just a life support system for the beach.
There are several Blue-Flag beaches that offers environmental education and information, has good water quality, environmental management and safety.
There are 46 beaches throughout the country that are Blue Flag, the most popular being Muizenberg and Hartenbos in the Western Cape, Nature's Valley in the Eastern Cape and Ramsgate in KZN.
Watersports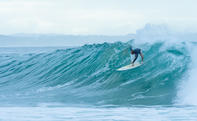 ©Shem Compion
Surfing on the Garden Route in the Western Cape.
Along the coastline, there are various beach spots that are ideal for any and all types of watersport. The West Coast is known for sea kayaking, bodyboarding and kiteboarding, while the East Coast has popular surfing, paddle boarding and windsurfing areas.
If you want to experience waves that scare even pro-surfers, Jeffery's Bay in the Eastern Cape and Hout Bay in the Western Cape should be your top picks. The strong winds of Table Bay and Port Elizabeth are ideal for windsurfing and kiteboarding, so head up either coast for your fill of adrenaline.
The quiet waters of the Garden Route offer nice conditions for stand-up paddle boarding, as well as sea kayaking. Langebaan, Camps Bay, Kleinmond, Still Bay and Witsand are good for canoeing, as the waters are more tame. You can jetski almost anywhere along the coast, and fishing is a popular pastime at seaside towns like Saldanha, Arniston, Mossel Bay, Port St Johns and Durban.
Swimming is best in the Indian ocean's warm waters, so spots like Margate and Umhlanga Rocks in KwaZulu-Natal are popular, as well as Knysna, Plettenberg Bay and Wilderness on the Garden Route.
You'll find friendly locals that run watersports companies at most major beaches that will be more than happy to get you started on any oceanic activity you desire.
Leisure Pursuits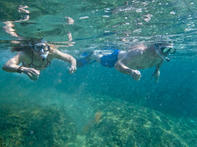 ©Roger de la Harpe
If you are looking to really lie back and relax, a boat trip might tickle your fancy. There are sailing companies at most harbours and waterfronts on the coastline, ready to take you out on a midday marine exploration or romantic sunset cruise.
The V&A Waterfront in Cape Town is a popular sailing spot, and along the Garden Route towns like Knysna and Hermanus have charters that go out everyday - in summer you might even be able to spot a whale! Port Elizabeth and Port Alfred in the Eastern Cape have various boat cruises, and Durban harbour KwaZulu-Natal offers a range of sailing experiences.
If you want to experience the underwater world of South Africa at an easy pace, snorkeling is a good option. The inviting warm waters of KwaZulu-Natal make for the perfect marine outing, where you'll see tropical fish and colorful coral reefs.
Further down the Wild Coast and Garden Route, there are rock pools waiting to be discovered which houses interesting Atlantic ocean sea creatures. It's a family-friendly activity, so bring along the kids and allow them to explore the beautiful marine life of SA.