As artisans, the members of the Cape Winemakers Guild dedicate themselves to moulding the finest product the ancient soils and fair climes of South Africa's Cape winelands are capable of growing. It's a creative endeavour. But it also requires knowledge of science, engineering and modern technology to capture the elusive essence of the many grape varieties grown in the Cape's myriad terroirs in a single bottle of wine.
Cape Winemakers Guild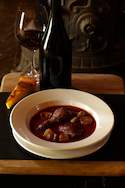 ©Mike Carelse
They look to the future as progressive thinkers intent on ever-improving their skills and knowledge to produce a product that shines in a competitive global market. But they honor what's gone before: a heritage of more than 350 years of wine farming in South Africa.
They are nature lovers and environmentalists, understanding that only sustainable farming ensures a living land that promises continued growth and prosperity; and that it requires an ongoing involvement in developing their individual farm communities, as well as their shared Winelands and industry societies.
Cape Winemakers Guild count their productive years and measure their 'age' as winemakers in terms of the number of harvests they've brought it and vintages they've bottled.
Food is as much a part of their lives as wine: they believe that one cannot be fully enjoyed without the other. Their cooking skills may vary - and all areas humble about their expertise in the kitchen as in the cellar. But each is as intriguing as the other by the challenge of turning something raw into something finished; drawn by the delight in converting a natural product into something rich in sensory appeal. They are sensualists.
The range of recipes offered in this intimate collection reflects individual personalities, personal tastes, and distinctively different lifestyles. Sophistication stands alongside simplicity, classicism co-exists with the experimental, serious application is balanced by spontaneous fun.
But theirs is a shared belief in preserving and capturing nature's bounty to enrich their daily lives (and ours) in the pursuit of one of life's most simple pleasures: enjoying a glass of wine and a home-cooked meal with family and friends...and, at odd times, equally contentedly on one's own.
Learn more about the Cape Winemakers Guild members from the first, second and third decades who are known as Cellarmasters in the Kitchen. Their delicious recipes all highlight a local wine.