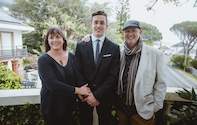 © Wendy Toerien with her family.
A practice that Wendy Toerien follows to this day, on the advice of a huge but humble South African winemaking figure interviewed at the family's seaside cottage while he prepared a soup from freshly caught crayfish and black mussels, accompanied by a glass of his chilled Kaapse Vonkel Cap Classique Brut: 'Always have a bottle of bubbly in the refrigerator!'
It's one of the many special moments, memories and pleasurable lifestyle choices, together with all the ins and outs of making and living with wine as experienced and espoused by South Africa's colourful, talented band of merry men and women, that she enjoys sharing.
A graduate of the University of Cape Town and Stellenbosch University, Wendy started working her way through all the wine brands she could lay her hands on during a typically expat sojourn in Namibia in the '80s, reporting on agriculture and politics.
A longing for the fairest Cape brought this Overberg born and bred writer 'home', hobbyist wine courses and liquor and hospitality trade publication writing putting her in the right place at the right time to become a founder editorial writer for WINE, South Africa's first consumer magazine in 1993.
Immersion in wine (!) continued after embarking upon a freelance career in 2000, encouraged by the success of her first book for publisher Struik (now Penguin Random House South Africa): South African Wine – A Celebration. This was subsequently followed by several similar large-format books, including Wines & Vineyards of South Africa; Cape Winelands in Style; Fire Water – South African Brandy; and Cellarmasters in the Kitchen (Cape Winemakers Guild 30 Years of Excellence).
Both Wines & Vineyards and Fire Water were recognised by France's annual Gourmand World Cookbook Fair Awards, voted Best New World Wine Book and Best Wine and Spirits Book respectively.
Wendy has also contributed to a number of books reflecting the Cape wine world's rich diversity and variety of attractions beyond what's in the bottle: the World Wildlife Fund South Africa's The Wine Kingdom – Celebrating Conservation in the Cape Winelands; Great Wine Tours of the World; and the pictorial SA's Winelands of the Cape.
She has produced copy for various consumer and corporate magazines and booklets, past and present, on her favourite subject: SA Country Life; Wines of South Africa's US-based South African Wine; National Geographic Traveler; Classic FM's Classic Wines; Pearl Valley in-house magazine; Winescape; Good Taste; The SA Brandy Foundation's SA Brandy Festival; Millionaire; and Wineland's Fynproe.
She continues to be a contributing writer for the annually updated Platter's SA Wine Guide, on board from the 2002 edition of this comprehensive cornucopia of wine ratings and background briefs on the country's wine and brandy producers, published since 1980.
Wendy's involvement with South Africa Online ® draws on her love of history, natural beauty, agricultural expertise, cultural richness and international outlook that makes the local wine industry something special.
But not partial to pretentiousness, she is part of keeping things real on these pages, bolstered by views reflecting typical Gen Z truth and authenticity from her medical student son, currently following the time-honoured Stellenbosch University tradition of exploring the Cape winelands one tasting room at a time.