This is a fairly packed day - to make all the stops, be on the road by 8:00 and if you use the suggested times at each place as a guide on this self-drive route, you'll be at Traveller's Rest by about 17:30. Otherwise skip one or two of the stops. If you stayed at Kagga Kamma, you have further to drive and definitely won't be able to make all these stops, but there is the benefit of a morning rock art tour at Kagga Kamma.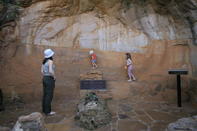 ©Jacques Marais
The Louis Leopoldt gravestone in Clanwilliam can be visited on this self-drive route.
Mount Ceder to Stadsaal
Turn out of Mount Ceder towards Cederberg. At 11 km turn left to Clanwilliam, and left again at 19 km (Matjiesrivier Nature Reserve office is on your left). Turn left to Stadsaal Cave and Bushmen paintings at about 22 km.
This range covers an area of about 130 000ha, more than half of it is the Cederberg Wilderness Area, and forms part of the sedimentary sandstones of the larger Table Mountain Group. Stadsaal is a weird honeycomb of rocks weathered into astonishing shapes, the centrepiece being the imposing Stadsaal Cave. Translated as 'Town Hall Cave', Stadsaal was a gathering place for farmers in the district, and politicians like DF Malan - also known as the architect of apartheid - would address his constituents there.
The rock art is not far from the gate along a track to the right before you get to Stadsaal. Although they may be two or three thousand years old, these elephants are beautifully preserved. No figure is armed, so this probably doesn't represent a hunt, and it's unusual in that this wouldn't have been a living area, so who knows why the artist chose to paint here?
Stadsaal to Kromrivier
Turn back onto the main road, then left to Kromrivier after about 3km. Allow 1.5 hr including drive to Truitjieskraal. The road drops quite sharply down to Kromrivier farm, where you'll meet the first of the Nieuwoudt families who pop up all through this valley.
Get a permit at the office, then drive roughly four kilometres through the farm (closing gates behind you) to Truitjieskraal, a mysterious world of unusually eerie quiet. Take time to wander about this huge massif of sculpted rocks, weathered slabs, stacks, towers and sentinels.
In between are two rock art sites with interesting trance images, and an extremely rare half-man half-animal figure. The mummified remains of a San baby were found here several years ago.
A river runs through Kromrivier, with basic chalets and campsites on the river banks. Horse rides are available, and there's a restaurant, so this makes a good spot for lunch. If you're staying longer, there are several beautiful hikes to waterfalls and rock pools as well as a 4x4 trail. Ask about more rock art at Potation, and Kippurs and Kromrivier caves.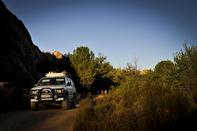 ©Jacques Marais
Kromrivier to Dwarsrivier
Return to main road and turn left to Clanwilliam. Turn left to the Dwarsrivier office after about 3km. Allow 45min for a wine tasting and at least 1.5hr for the walk and swim at Maalgat. Look up and to your right as you approach Sanddrif and Dwarsrivier at one of the Cederberg's famous formations, the Wolfberg Cracks, which disappear into the rock face right at the top of the mountain, and the army of extraordinary rock sentinels on your right.
Turn in at Dwarsrivier farm (owned by more Nieuwoudts) and visit the Cederberg Private Cellar to taste 'wines with altitude' - this is South Africa's highest winery, at over a thousand metres above sea level. They make a range of red and white wines which, as they say, will rock you.
Now, fancy a swim in one of the most fantastic rock pools in the Western Cape? It's a short drive and then an easy, mostly level 25-minute walk to Maalgat, a 'bottomless' pool fed by a gushing waterfall, with awesomely high rock diving boards for those who need to prove something. Get directions and a permit from the Dwarsrivier office. Dwarsrivier has camping and chalets on the lawns on either side of the river at Sanddrif. An observatory operates on Saturday nights except at full moon - ask at the office.
Dwarsrivier to Algeria
Leave Dwarsrivier and continue on the road. After Uitkyk (Lookout) Pass, turn right to Algeria Forest Station at about 26 km. This is an optional stop, but the office (and you'll probably find yet another Nieuwoudt behind the desk) has a very good information centre and a relief model of the entire area which helps give you the big picture of these mountain ranges.
A two and a half hour walk to a waterfall starts here, as well as numerous longer hikes. Algeria also has a beautifully lawned campsite and several stone cottages for hire.
Algeria to Traveller's Rest via Clanwilliam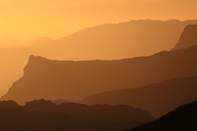 ©Jacques Marais
The Clanwillam mountain ranges.
Leave Algeria. After 400 m turn right to Clanwilliam. At the T-junction at 22 km, turn right to Clanwilliam. Keep straight through town. At the T-junction turn right onto R364 Wupperthal, Calvinia. At 46 km stop at the grave of C Louis Leipoldt. Climb Pakhuis Pass, cross the Brandewyn River at 63 km and turn left to Traveller's Rest 300 m later.
The otherworldly rock formations around the Pakhuis Pass set the scene for Traveller's Rest, the kick-off place for two of the best rock art galleries in this area - the Sevilla Trail and Salmanslaagte, which can be visited on Day Three (remember to get your permits here). The appeal at Traveller's Rest is the rock art rather than the accommodation, which is rustic and comfortable. There are 12 basic cottages scattered around the area.