Married to Politics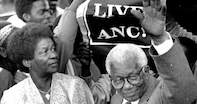 ©Eric Miller
Albertina Sisulu was not involved in politics until she met Walter in 1941. Even then, she only attended meetings as a support to him.
When they got married, former president Nelson Mandela told her, "Albertina, you have married a married man - Walter married politics before he met you." After they were married she became actively involved in politics.
She joined the African National Congress (ANC) Women's League and took part in the Freedom Charter launch in the same year.
In 1954 she became an executive member of the Federation of South African Women (FEDSAW), and became its Transvaal President in 1963. She would eventually become its National President. The Sisulu home became a central meeting place for get togethers that largely shaped the ANC.
Years of Hardship
1952 brought the Defiance Campaign, a collaborative effort of the ANC, South African Indian Congress and South African Communist Party. The apartheid government responded to this with the Suppression of Communism Act, which saw the arrest of 20 people including Albertina's husband, Walter.
Over the next few years Walter was arrested multiple times and Albertina was left to suffer hardships while being harrassed by police for her involvement with the ANC Women's League and FEDSAW. She said the following during Walter's imprisonment:
"All these years I never had, you know, a comfortable life. Because from 1958 when I was in jail, that was the beginning of my life in and out of jail. Fifty-eight I was in jail, sixty-three I was in jail with my first son who was seventeen years old. We were arrested because of the Suppression of Communism Act, which meant ninety days without trial.
So we went to jail, and when we completed the ninety days we were released, and after that he was harassed by the police. So I felt that he must leave the country. So he skipped the country in sixty-three. Sixty-four, after the sentence of (Walter) for life imprisonment, I was banned for five years.
That banning order meant that I (couldn't) attend gatherings. I (couldn't) go near the educational centres, I (couldn't) go near the courts. But after five years I was given another ten years' house arrest. That was the worst. Now I am alone and the man is in jail."
Protesting Unfair Laws
Even though Albertina only became involved in politics because of her husband, she continued his work for a liberated South Africa while he was in prison. In 1953 the government implemented the Bantu Education Act. This meant a severely inferior education for black South African children.
Albertina Sisulu and the other members of the ANC Women's League and FEDSAW were not pleased with this at all. They organised a protest to the Union Buildings against the act. In boycotting Bantu Education, they also withdrew their children from local government-run schools and opened their homes as an alternative school where they hoped to give children a proper education. These attempts were largely unsuccessful. In 1976 the students subjected to Bantu Education held an uprising that turned violent. The event recruited thousands of young people for Umkhonto we Sizwe (the military wing of the ANC) and Albertina organised for them to join training camps in neighbouring states.
On 9 August 1956 Albertina Sisulu joined 20 000 other female freedom fighters like Helen Joseph and Sophia Williams-De Bruyn in a march to the Union Buildings in Pretoria in protest pass laws. She was a nurse at the time and the law stated that if she was ever sentenced by the court she would be struck off the nurses roll.
This did not deter her from her cause, even though she was a breadwinner and losing her job would mean she could not support her family. She and 2 000 other protestors were arrested that day and spent three weeks in detention before being found not guilty and discharged. Nelson Mandela was their lawyer. Albertina was not struck from the roll and could continue to take care of her family. Today, 9 August is celebrated as Women's Day in South Africa.
Harassed by Police
Albertina was arrested again in 1963 when South African authorities were unable to locate her husband Walter after he went underground upon being released on bail pending a six-year prison sentence. This made her the first woman to be detained under the General Law Amendment Act.
First she was placed in solitary confinement for two months, then she was held under a dusk-till-dawn house arrest and banned. Walter was arrested while she was in solitary and sentenced to life imprisonment for planning acts of sabotage and sent to Robben Island.
After this the state persecuted Albertina relentlessly and her political activities resulted in her being in and out of jail and being subject to multiple banning orders.
The banning order meant that she could not go to meetings or leave the district. Albertina relayed what it was like to be harrassed by the police:
"The police would knock at the unholy hours, one o'clock. Sometimes we didn't even know why they were there. They would just tell you it was a general check up, just to harass you. You know, when they knock, they knock from the door and all the windows. When you open the door, the house is surrounded by police, demanding you to open. That's harassment."
The Sisulu children were not exempt from political activities. Nkuli, the youngest child, was caught up in the Soweto student uprisings and was detained and beaten by police. Lindiwe, the eldest daughter, was taken into custody and held at a detention centre at John Vorster square for being involved in the Black Consciousness Movement (BCM). Their son, Zwelakhe, was placed under a banning order which negatively impacted his career as a journalist. This placed a great deal of strain on Albertina who suffered great anxiety when forced to watch the hardship of her children.
Re-established in the Political Landscape
In 1981 Albertina's banning order was lifted and not reinstated. She had been banned for a total of 18 years, the longest anyone had been banned in South Africa until then. With the ban lifted, she continue her work with FEDSAW and as co-president of the United Democratic Front (UDF).
In 1983 she was arrested again for promoting the ANC at a friend's funeral, spending seven months in solitary confinement before being tried. She received a four year sentence, but was released pending appeal.
Two years later she was arrested again and charged with treason. This time she was released following massive protests and the swing of international opinion against apartheid. In 1989 her husband, Walter was released from prison.
That same year the ANC was also unbanned and Albertina and Walter worked hard to re-establish themselves in the political landscape.
Walter was elected deputy president of the ANC and Albertina was elected deputy president of the ANC Women's League. She travelled to meet former US presidents George W Bush and Jimmy Carter and UK prime minister Margaret Thatcher, detailing the severe conditions faced by black South Africans and encouraging them to maintain sanctions against the Apartheid Regime.