Memories Are Made Here
There's no better way to enjoy your accommodation in Addo Elephant National Park with a sundowner sitting on your stoep and watching, as an afternoon procession of elephants strolls casually past.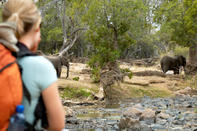 ©Shem Compion
Guided bush walks, see wildlife from a different perspective at Addo National Park.
Besides the obligatory game drives, there are several other activities you can do in the Addo Elephant National Park, like guided walks, bird watching and horse rides.
The horse rides are particularly memorable as they give you an opportunity to get really close to the elephants. There are two out-rides each day: inexperienced riders go out in the morning, keeping close to the fence to avoid trouble; and more capable riders go out in the afternoon, plunging into the bush to look for elephants.