Where To Stay?
When planning a trip to South Africa, there are usually questions that come to mind. These vary from where is the best place to stay - hotels in the city or game lodges? What is the quality of the accommodation? And much more. That's why we want to answer the most commonly asked questions about where to book your stay when visiting South Africa.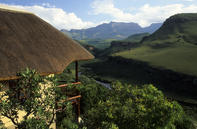 ©Roger de la Harpe
Giant's Castle accommodation in the Drakensberg.
You can stay in a five-star hotel overlooking Johannesburg or the Cape's world famous Table Mountain, or watch surfers riding the barrelling waves on the Indian Ocean in the Eastern Cape. You could fall asleep to the haunting sounds of the African bush, from within the reed and thatch 'boma' of a luxury game lodge.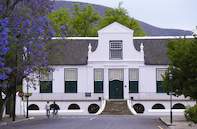 ©Roger de la Harpe
Drosty Hof Hotel in Graaff Reinet, Eastern Cape.
You could even do it the outdoor way, sleeping in rustic mountain chalets along the country's national hiking way system. All these are threads in the roughly textured topographical cloth. The range of accommodation options in South Africa are as diverse as the landscape and there is something to appeal to every visitor's style and budget.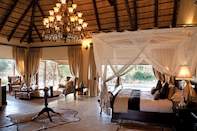 Kings Camp in Timbavati Private Game Reserve.