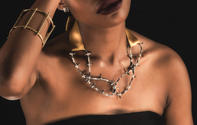 Jewellery is more than adornment; it reflects beauty, wealth, prestige and the wearer's personality. Jewellery can also be collected, traded and sold, making every piece you acquire a worthwhile investment. Scroll through SouthAfrica.co.za's jewellery collection to shop for the country's most precious rings, necklaces, bracelets and bangles.
A metal in a league of its own, the unparalleled qualities of gold have inspired the most exquisite creations, including magnificent jewellery and priceless decorative symbols....
more
Believed to be a mirror to the soul, silver's radiance and versatility have won the hearts of seekers, lovers and jewellery collectors alike. Browse SouthAfrica.co.za's selection of premium silver products for one that mirrors your soul's desires....
more