Nervous Nature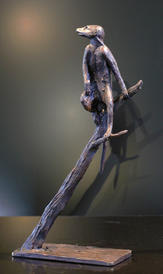 A common sight in the Africa wilderness, a Meerkat keeps a lookout for hungry predators. The animal's anthropomorphic pose sheds light on the artwork's motif; the South African sculptor is an enthusiastic conservationist and intends to spread awareness through his art.
Hand sculpted in clay and cast in bronze, it stands almost half a metre high – a definite centrepiece in any home gallery.
Enquire with SouthAfrica.co.za to order one of only 12 duplications of this thought-provoking bronze piece.
Priced From: US$2770
By Bruce Little