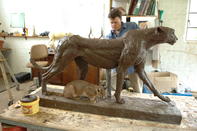 South African artist, Bruce Little, speaks clearly about the legacy he wants to leave; his innate commitment to wildlife conservation is declared in every one of his pieces.
Having worked as a game ranger and conservationist for 20 years, Bruce Little has had more than enough time with the animals he sculpts. The artist believes that capturing the essence of his models is more important than creating an anatomical replica – he says that the movement and attitude of each piece honour what the animal is.
The sculptor is self-taught and relies on instinct to guide his work. Little was born in South Africa and spent years photographing the wildlife around him, strengthening the bond he has with nature and giving him plenty of inspiration for his work in bronze.