Grape Appreciation Society
An interest shared is an interest doubled. Case in point, wine connoisseurs the world over pronounce their enjoyment of the fermented grape when they join a wine tasting club. Whether the wine club adheres to a strict 'sniffs and spits' philosophy or promotes the 'no drop left behind' mantra, finding the right grape appreciation society is the first step in prolonging your wine pleasure.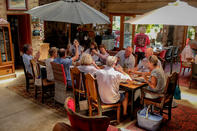 ©Chris Daly
A wine club can be great for meeting new and familiar friends.
Choosing a Wine Club
As part of establishing a community of wine lovers, many wine farms offer wine tasting clubs that come with several perks, like discounted rates on their wine products, exclusive insight into upcoming events and the all-important combo: skilfully engineered food and wine pairings. Wine tasting clubs hosted by established wine farms, usually come with a membership fee. Which is literally a small price to pay for the assortment of fine quality wine and distinguished benefits that members have access to.
If joining a wine club, established by certified sommeliers, that opens your palette up to a host of new wines, does not particularly appeal to your needs, establishing a wine club of your own may be a more convenient option.
Following a typical book club template, a wine tasting club formed by friends, family and eager acquaintances, can host many charms for the casual drinker, who is edging their way to collector/connoisseur status. For one, the relaxed atmosphere encouraged by familiar faces may be foundational in your foray into the grapey unknown.
If a 3D IRL wine club does not appeal to you, but trying new wine suggested by knowledgeable staff does - then an online wine subscription is the answer. Modern convenience, and a good deal of the perks that come with brick and mortar wine clubs are still part of the online wine tasting club experience. With just a tap of a finger, you can have a novel or tailored experience. Whichever route you take, the journey to wine enthusiasm is a reward on its own.