The variety of wine styles produced in South Africa is extensive and includes both traditional wine styles and their more alternative modern counterparts.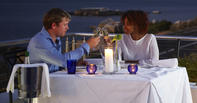 ©Roger de la Harpe
Sharing a bottle of South African wine at the Twelve Apostles Hotel, Cape Town.
Within the main styles of wine, there are different levels of sweetness as wines can be produced from dry to sweet. The main wine style categories are as follows:
White Wine Styles
©Louise Brodie
White wine colours vary and range from gold to amber.
White wine styles range from light-bodied white wines, through full-bodied white wines to aromatic sweet white wines. White wines are produced from green/pale yellow grapes and the colour of the wines range from gold to amber. White wines offer a wide range of flavours, based on the variety, spanning from rich and creamy to light and zesty.
Varietal white wines are made primarily from a single named grape variety and are labelled as such. In South Africa, the blended white wine styles currently offer very exciting wines and the category includes two main styles: Sauvignon Blanc and Semillion blends, as well as Chenin Blanc, led Mediterranean style blends that are rich and complex, as well as other less traditional styles.
Red Wine Styles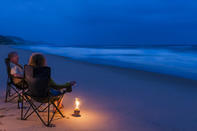 ©Roger de la Harpe
The simple pleasure of sharing a bottle of South African wine, any place anywhere.
Red wine styles include light-bodied red wines, medium-bodied red wines to full-bodied red wines. Red wines are made from pressed black grapes with colours ranging from light to dark and from very dry to sweet.
Varietal red wines are made primarily from a single named grape variety and the variety's name is usually displayed on the label. The colour of red wine ranges from light red to deep red or purple.
Red wines are also often blended and the traditional French-style blends that include two or more of the following varieties – Cabernet Sauvignon, Cabernet Franc, Merlot, Petit Verdot and Malbec.
While South Africa's most prominent Shiraz led blends have given added complexity to varieties like Grenache, Mourvèdre and Viognier, which have come to the forefront in recent years.
Rosé Wine Styles
Rosé wines are made from black grapes and are produced by removing the skins before they deeply colour the wine, leaving the characteristic light pink colour in the wine.
In South Africa rosé wines are also made from Pinotage, this wine style is called Blanc de Noir. Rosé wines are also created by blending red and white wines together. The colour can vary from pink, just off the colour of pale white wine, to deep blush pink. Both dry and sweet styles of rosé are common.
Sparkling Wine Styles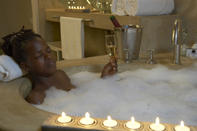 ©Roger de la Harpe
Wine can be enjoyed in many situations.
Sparkling wine is a wine style that involves the implementation of a secondary fermentation process, which creates the bubbles that characterise sparkling wine.
Bottle fermentation is known in South Africa as method cap classic. Sparkling wine can be red, white, or rosé and can range from minerally to rich and sweet.
Fortified/Dessert Wine Styles
Dessert or fortified wines are a style of winemaking that involves fortifying wine with spirits. These include sweet dessert wines and dry-style fortified wines, such as dry sherry.
South African fortified wines, are wines that have been increased in alcoholic strength by the addition of spirit, usually brandy, to a minimum of 15 percent and not exceeding 22 percent. The Cape Winelands have a long history of making sweet wines, with some of the best known of these include Hanepoot, Muscadel and Jerepigo.