Panoramic View of the Karoo
"Vulture Mountain", overlooking Willowmore, is one of the few places in the Karoo where coastal fynbos grows. The mountain offers panoramic views of the area and a wide variety of activities.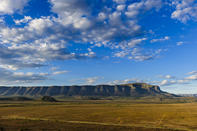 ©Roger de la Harpe
Karoo landscape in Willowmore.
A number of trails offers the hiker the chance to explore the flora, fauna and birdlife of the mountain. The rugged terrain provides even the most experienced mountain biker with exciting and challenging trails. For the adrenaline junky, the mountain lends itself to spectacular paragliding and adventurous abseiling.
Heritage Tours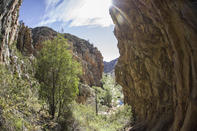 ©Jacques Marais
The Baviaanskloof area near Willowmore.
Willowmore lies in close proximity to the Baviaanskloof, a majestic mountain range known for its natural splendor and historical heritage. It is a renowned UNESCO World Heritage Site which attracts visitors from all over the country to experience its cultural history and natural beauty.
The heritage tours in the area are a great way to the geological wonder of the mountains, indigenous forests, rivers and passes. On the tour, you can explore the varied vegetation spot fynbos, succulents, stinkwoods and wild fig trees. Some of the floral species in the area quite rare, making the tour even more special. You'll also spot an array of wildlife, including leopards, buffaloes, baboons, antelopes and a range of bird species.
The Baviaans area was once inhabited by ancient bushmen, who left behind rock art and remnants of implements that tell the story of their way of life, beliefs and customs. The tours start in Willowmore, and there are one to three day options to choose from.