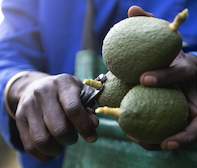 ©Westfalia Fruit
Westfalia Fruit operates a number of avocado estates in a variety of regions, including Southern Africa, Mexico, Chile, Colombia, Peru and California in the USA.
Being the largest avocado-growing brand in the world, Wesfalia are recognised as global experts and have become a preferred supplier to both retail and wholesale customers in the UK, Europe, North America, Latin America and Southern Africa.
In addition to avocados, they supply a wide range of fresh fruit including mangoes, blueberries, pomegranates, apples, grapes, stone fruit, citrus, cherries and passion fruit. This expanded production capability, together with their ripening and packing expertise and enhanced brand, is prudent in markets where there is a particularly high demand for top-quality, added value fresh produce.
Processed products on offer in niche markets include flavoured and plain avocado oils, avocado puree and guacamole, individually quick frozen avocado pieces, high pressure processing products and dried fruit.
Avocado Oil
Crude, refined and pressed oil are produced and marketed to the cosmetic and food industries both locally and internationally.
Guacamole and Avocado Puree
Westfalia's guacamole or avocado purée has a unique flavour, with a light-green colour. Minimal or no preservatives are added and they can produce recipes according​ to specific customer specifications.
All packaging is food grade. ​Westfalia's guacamole or avocado purée is certified Kosher and Halaal​.
IQF* & HPP**
Individually quick frozen (IQF*) avocado products are derived from ripe fruit that has been sorted, washed, peeled and de-stoned. The avocado is sliced or diced, and the pieces dipped in a mixture of ascorbic and citric acid and then blast frozen. IQF avocado products are packaged in 1kg bags and other IQF produce options are also available.​
High-pressure processing (HPP**) is a natural and safe process for preserving foods through the use of high pressure cold water. HPP gives avocado purée or guacamole a natural and fresh taste without requiring additives to improve or preserve the taste of the product. The HPP process also kills known bacteria, including salmonella, which can affect food safety.
Branded products
Westfalia-branded avocado oils are made from ripe Hass avocados. The range available in South Africa includes Plain avocado oil, as well as Garlic, Lemon, and Butter ​Flavoured Avocado Oils - suitable for vegans and vegetarians.
Westfalia Guacamole is derived from the same avocados. Made a blended selection of herbs and spices, the range includes Plain, Spicy, Sweet Chilli Salsa and Biltong-Flavoured variants - also suitable for vegetarians and vegans.
Westfalia Fruit's dried mango is made from ripened fresh fruit, which has been washed, skinned, cut and dried, to provide the best possible food safety - no sugar added to this product.
GEM® avocado is slightly oval in shape with a green skin, which turns dark purple when ripe. The flesh is creamy with a unique taste. GEM® is a protected cultivar that can only be grown and traded by special licence.
Westfalia Fruit has introduced avocado oil mayonnaise and macadamia oil mayonnaise to select stores in South Africa - both are known for their health benefits.
Fruit Farming in South Africa consist of oranges and apples to table grapes and dragon fruit, South Africa is a land of fantastic fruit and one of the main fruit producing countries in the world....
more