Hilton Railway Station Museum
The Hilton Railway Station Museum (formerly Natal Railway Museum in Pietermaritzburg) is located in Hilton at the old railway station. It is the last remaining station on the original Durban to Johannesburg track, dating back to 1884.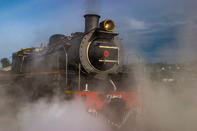 ©Chris Daly
The station has not been used in over 10 years, and now stands as a monument of the town's heritage. Although it has been left to deteriorate, the station was a focal point for numerous scenes in the film 'Cry the Beloved Country', based on the classic novel by South African author Alan Paton.
The Railway Station Museum was opened in 2011 after the Hilton Steam Heritage Association was established. The Open Day included firing up the North British Tank engine (dating from 1950) and the 1937 Cowan Sheldon Steam Crane. The museum displays various train memorabilia and antiques that any motor-enthusiast or historian will enjoy.
Explore the Midlands Meander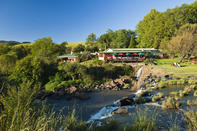 ©Roger de la Harpe
Experience the many restaurants and delights the Midlands Meander has to offer, KwaZulu-Natal Province.
The Midlands Meander is a mix of more than 160 places to eat, drink, sleep, shop and play. There are four routes that weave between the small towns of Hilton, Nottingham Road and Mooi River.
The Meander started when a group of artists wondered if they could lure visitors from the beaten track to explore their Midland studios and galleries. Today there's a staggering range of crafts represented, such as pottery, wood-turning, weaving, cheese-making and shoemaking, as well as a bakery and even a piano specialist.
Apart from arts and crafts, the Meander has a number of sporting, environmental and historical elements. You can play golf, go trout fishing or visit the railway museum and some of the region's quaint old churches.
Nature Reserves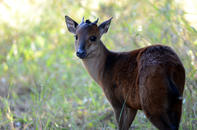 ©Karl Svendsen
Blue duiker (Philantomba monticola).
Hilton is home to two nature reserves, namely the Queen Elizabeth and Doreen Clark Nature Reserves. Queen Elizabeth Nature Reserve serves as the headquarters of Ezemvelo KZN Wildlife, KwaZulu-Natal's nature conservation service, and offers a spectacular array of indigenous fauna and flora. The reserve lies on the northern slopes of Pietermaritzburg and visitors will be sure to spot animals like impala, blesbok, zebra, bushbuck, dassies, grey and blue duiker and crowned eagles roaming the reserve. A number of inidgenous and exotic flower species can be found as well, including the endangered daisy and several cycad species. The reserve offers beautiful picnic spots, as well as educational workshops on environmental affairs.
Doreen Clark Nature Reserve is 7 ha of pristine forest bordered by grassland. The reserve offers splendid hiking trails for those wanting to explore the area. The birdlife is magnificent, with over 200 species recorded. Keep a lookout for African emerald cuckoo, African crowned eagle and the white-starred robin. It's an ideal day-trip for the family.