The Draaikrans
Steytlerville is situated in the Baviaans area, which boasts three converging biomes - Karoo, valley bushveld and fynbos. Over 200 bird species thrive in the area because of this. A major attraction in the area is the Draaikrans. This 61 m high cliff is the exposed and twisted rock that was formed millions of years ago when the Karoo lay at the bottom of the Algoa Sea. At a depth of 4-7 km, the temperature under water was sufficiently hot for the rock to be pliable enough to bend without shattering, and movement of the earth's plates forced the sea bed to rise, forming these Cape Fold Mountains.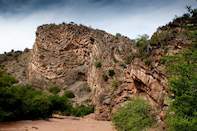 A popular attraction in Steytlerville is the Draaikrans.
Great Mountain Biking Terrain
Steytlerville's location makes it a great mountain biking terrain, particularly on Marlu Guest Farm. Enjoy classic Karoo mountain biking along smooth jeep-tracks and explore some animal tracks on Marlu's 10 km Exploration Route. You can also opt for one of their 3 long distance routes if you want to do some endurance training on a few super quiet Karoo district roads that will take you past some of the most breathtaking archaeological scenery in South Africa.
The Baviaanskloof mountain biking route is a difficult, but rewarding crank along the scenic landscape of the Karoo. The Elandsheuwel Route is a remote ride that is great for the whole family. There are 3 routes to choose from (6 km, 14 km and 17 km) and showcases the Karoo at its best - rugged mountains, grassy plains and open vistas.