Diverse Paradise
St Lucia is situated 75 km north of Richards Bay on the KwaZulu-Natal's Elephant Coast. The town's claim to fame as Africa's largest estuarine system plus that it boasts no less than 220 km of non-stop beach all the way to Mozambique, makes it a one-of-a-kind dorp.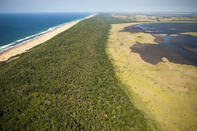 ©Roger de la Harpe
Aerial view of Eastern Shores forested coastal dunes and Indian Ocean.
Otherwise, it is a typical coastal resort village, with the added boon of snuggling within the aqua embrace of both Lake St Lucia and the Indian Ocean. The protected 332 000 ha wilderness thus created is known as iSimangaliso Wetland Park (iSimangaliso meaning 'miracle and wonder'), a truly apt description. Originally named 'Rio de Areias de Ouro' (or River of Golden Sands) in 1554 by a party of survivors from the shipwrecked Saint Benedict, but the name was officially changed to St. Lucia in 1575.
The town boasts a bustling main street lined with great seafood restaurants, the expected curio and craft outlets, vibrant street stalls, a popular market and accommodation options from smart hotels and lodges to affordable backpackers. The area immediately surrounding St. Lucia was declared a conservation area more than a hundred years ago, and is home to SA's largest population of hippos and crocodiles.
Other rare species which now flourish here include leatherback turtles, black rhino, leopard and more than 530 species of birds. You will also find 36 species of amphibians basking in a subtropical climate with 300 or more sunshine days per year. A good 60% of the annual rain falls during summer.
Did You Know?
The village takes its name from Cape St Lucia, named by the Portuguese navigator Manuel de Mesquita Perestrêlo, when he passed the headland on 13 December 1575, the feast day of Saint Lucy.By
Jacques Marais