Catalinas and U-boats
During the Second World War, flying boats were stationed on Lake St Lucia in order to patrol the east coast for German, Japanese and Italian U-boats. Their role was vital in keeping the sea route around Africa open.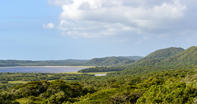 ©Roger de la Harpe
Eastern Shore of Lake St Lucia.
Although the South African government only admitted to six losses, the true figure was 163 Allied ships sunk, captured or damaged off our coast during the war. The flying boats operated from the calm waters of Catalina Bay, while a radar station was built on nearby Mount Tabor.
Quarters for the military personnel were situated on the western slopes of the dunes close to the flying-boat station. Debbie Cooper, executive assistant to iSimangaliso Wetland Park's CEO, offered to show me around some of the war-time sights. We drove along an overgrown track closed to the public north of Mission Rocks.
After a day of rain, the sun baked the green dunes and the world was fresh and sparkling. Our winding route led to the top of one of the region's highest dunes: Mount Tabor. There we found a deserted concrete blockhouse, once the bustling radar station that scanned the ocean for U-boats.
Flying Boats Came and Went at All Hours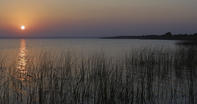 ©Roger de la Harpe
Sunset at Catalina Bay, Lake St Lucia.
Next, Debbie drove me down to Catalina Bay. The modern jetty is adjacent to where the Second World War one stood. I recalled a photograph Debbie had shown me of boats and sea-plane tenders tied up alongside and a makeshift signal tower. Today it would be far too shallow to moor here. Standing on the jetty, you can picture the lumbering birds speeding across the calm waters of Catalina Bay, their engines at full revs.
The flying boats came and went at all hours and for night landings used a flare-path marked by a double line of boats equipped with powerful lanterns and moored diagonally across the lake from Mitchell Island to Charters Creek on the western shore. I remembered reading that one of them had crashed in the lake on 7 June 1943. Catalina E of 259 Squadron based in Madagascar was coming in to land at the south end of the flare-path. Approaching Mitchell Island, one of the engines failed and, unable to maintain height, it crashed into the shallows.
There was only one survivor. Apparently, you can still make out some of the remains if you know where to look. A dark shape overgrown with weed just below the surface marks the spot of the crash. 'We found the wreck of the Catalina when it was exposed during the severe drought of 2003,' said Debbie. 'Unfortunately the old plane had been used for target practice and, combined with the lake's high salinity, not much remains.'
By
Justin Fox