Although Fynbos is at its most spectacular during late winter and spring – usually the wettest and coldest time of the year – there are flowers to be enjoyed in any season on the Southern Overberg Fynbos Route. Fynbos is by no means the only attraction of this area.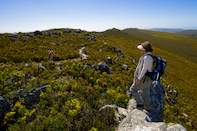 ©Shem Compion
Hiking in the Overberg.
Secluded beaches, good angling spots, hiking trails, land and boat-based whale watching and shark viewing in season, as well as wonderful birding make this area a great destination for nature lovers. Another unique attraction is the patches of milkwood forests found in the area.
The southern Overberg is also home to Platbos, an old-growth indigenous forest. Platbos is not only a botanically unique forest whose tree species lend from Afromontane forest as well as coastal milkwood forest, it is also a rare and endangered ecosystem.
At Platbos there are surviving tree specimens of over 1000 years of age and the forest itself has been described by botanists as a remnant forest whose history dates back to a time when much larger areas of South Africa were covered in forest. The forest is an important habitat for a wide range of mammals, birds, reptiles and invertebrates and there is at least one known red data (endangered) species at the forest namely the Leopard Toad (Bufo pantherinus). The Bushbuck (Tragelaphus scriptus) finds the South-western-most fringe of its distribution in the Platbos-area. This buck depends on a habitat of indigenous forest for its continued survival.
Walker Bay Nature Reserve lies on the south-western Cape coast, just east of Hermanus and covers about 4300ha. The reserve comprises five coastal areas lying between Hermanus and Die Dam (near Struisbaai). The largest area, known as Walker Bay, stretches from the Klein River estuary to De Kelders at Gansbaai. The largest area, known as Walker Bay, stretches from the Klein River estuary to De Kelders at Gansbaai.
Join one of the many operators and sail out to Shark Alley where you will find the largest population of great white sharks in the world. Found between Dyer Island and Geyser Rock, the alley is a narrow channel of water that boasts well over 50 000 Cape fur seals that are easy prey for Great Whites.