Go on an overnight horse trail that covers several private nature reserves and a national park on the Southern Overberg Fynbos Route. Trails meander between the Walker Bay Whale Conservancy and Cape Agulhas, Africa's southernmost point, now part of the Cape Agulhas National Park.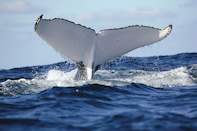 ©Johan Boshoff
Whale watching in the Overberg.
Experience the area's marine life on a boat-based whale-watching excursion where you can see southern right whales and other marine life in the Dyer Island area, including penguins, sea birds, seals, great white sharks and dolphins. The boat trips are available all year round, but southern right whales are only present from the end of July to December.
Gansbaai is a fishing village with a relaxed atmosphere that offers some of the finest boat and land-based whale watching in the world. From the spectacular cliffs of De Kelders, one can literally see the markings on the heads of the Southern Right Whales that come to the coast from July to mate, calve and nurse their young. Whales can be seen breaching and lob tailing as close as 20m from the shore, or cruising close to boats to satisfy their curiosity.
Dyer Island is another must-see for visitors to Gansbaai. It is home to an incredible variety of marine life – including Cape Fur Seals. Between the island and the rock where the seals rest, lies 'shark alley', where the mysterious and graceful Great White Sharks have drawn visitors from across the globe. This is one of the few places in the world where you can cage dive with these creatures.
The Duiwelsgat Hiking Trail offers 7km of day walks along limestone and sandstone cliffs with coastal Fynbos and milkwoods. In town are Art and crafts shops, restaurants and a museum. The Danger Point Lighthouse is also worth a visit.
Go hiking at the Salmonsdam Nature Reserve. There are three recognised day hikes to choose from: the Mountain, Ravine and Waterfall trails. None of them require any great degree of fitness or expertise. At about 7km, the Mountain Trail is the longest and should only take you a couple of hours. But by sleeping over at one of the reserve's cabins, you could easily make a long weekend of it.