Mediterranean Influence
The cold, wet winters and warm dry summers of a Mediterranean climate are the ideal climatic conditions to nurture vines to produce excellent quality wines, and besides the Atlas Mountains in Morocco, South Africa's Western Cape is the only other region in Africa that enjoys a Mediterranean climate.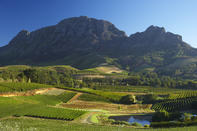 ©Roger de la Harpe
South Africa has a Mediterranean climate that is ideal for wine production.
It is, therefore, no surprise that the first vines brought to this particular part of the African continent centuries ago, flourished and over time created the proud legacy of the South African wine industry.
The first vines planted in South Africa were introduced from Europe and planted in 1655. The first wine produced was four years later in 1659. The arrival of the French Huguenots, three decades later was an important catalyst in the establishment of the wine industry, as they brought with them their knowledge of winemaking, plus their culture and skills significantly assisted the early development of the industry.
Wine for Export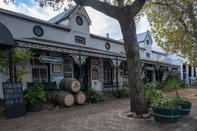 ©Chris Daly
Wine production and sales has been long established in South Africa.
Some of the first wines produced in South Africa were exported to Batavia by the Dutch East India Company. One of the earliest trade wars in Europe provided an important marketing opportunity for South African wine exports to Europe. At the start of the eighteenth century, Napoleon's Continental Blockade embargo prevented Britain from importing French wines and consequently, the English developed a keen taste for sweet South African wines as celebrated in the history of Vin De Constance, the premier South Africa wine of the time. Ironically, years later Napoleon is said to have drunk Vin de Constance, when he was exiled to St Helena! Over time a strong tradition and culture of wine appreciation and consumption has developed in South Africa, which this continues today.
South Africa has 550 wineries and of the 550, around 400 press less than 120 tons of grapes per year. The South African wine industry produces approximately 820 million litres of wine annually. More than 50% of our total wine production is exported and of that which is exported, more than 50% is exported in bulk.
Our wine industry is a jewel in the crown of South African agricultural production, creating a significant number of jobs within the production, processing and logistics sectors. South African wines have a well-established international reputation and the export of wines provides a valuable source of foreign revenue for South Africa.