Maize Excluded for Now
The South African government recently unveiled its plan for getting the national fleet to fill up a percentage of its tanks on sunflowers and the like. But, like most things political, it's not without its controversy.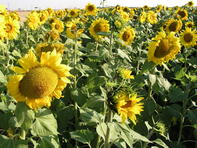 ©Louise Brodie
Sunflowers can be grown to harvest for bio fuels.
In December 2007, Cabinet signed off on a biofuels strategy put to it by the Department of Minerals and Energy (DME) – a plan which deliberately excludes maize from the "mix" but one which will bring marginal farmers in the former homeland into the mainstream agri-energy economy.
The DME has been eyeballing the former homelands, these apartheid-era constructs, where some 14 percent of South Africa's arable land is found. Much of this remains agriculturally unproductive.
The reason for excluding maize, for the time being, the DME claims, is that it doesn't want to see a staple crop diverted from the food market to the biofuels market. Initially, only sugar cane and sugar beet will be allowed for the production of bioethanol, and sunflower, canola and soybeans will be used for biodiesel.
South African Reserve Bank governor at the time, Tito Mboweni also punched a round or two on the matter, warning in 2007 that diverting maize to fuel production would push up food inflation. So, the DME's strategy is to bring the former homelands on board, create jobs, grow a bit more food and voilà: rural development!
Undo the Green Effect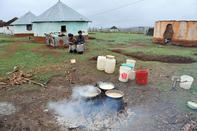 ©Eric Miller
Mvezo, Wild Coast (in the former Transkei)
But the strategy claims that the expansion of biofuels in the former homelands will target "new and additional land" – which certainly means converting some veld to croplands, a process which will release all that soil carbon into the atmosphere and undo any good brought about by using that green fuel.
It looks as though our government's plan regarding green fuels grown in that ground, as an alternative energy option, has everything to do with rural development and job creation, and nothing to do with curbing the country's transport related carbon emissions. Commercial farmers are also reading it this way. South Africa's maize footprint is about 2 million hectares.
Apparently, we have enough suitable land to nearly double our maize yield. But farmers won't produce more, because it will produce a glut of maize on the market, the price will fall and they won't make fair returns. If the farmer goes under, the country goes hungry.
By
Leonie Joubert