Singita Sabi Sand is a privately owned game reserve in the Sabi Sand Reserve, adjacent to South Africa's flagship Kruger National Park. Spanning more than 45 000 acres, Singita Sabi Sand is renowned for its high concentrations of big game and frequent leopard sightings.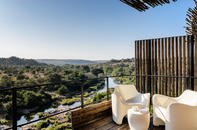 Private viewing deck, Singita Lebombo Lodge at Singita Private Game Reserve, South Africa.
The Sabi Sand and Kruger National Park together make up some of South Africa's most game-rich and pristine lands. It is in the heart of this unique environment that you will find Singita Ebony and Boulders lodges and Singita Castleton. In South Africa, Singita Sabi Sand, adjoining the Kruger National Park, is recognised globally for its diversity and formidable concentration of big game, particularly leopard.
Singita Kruger National Park is located on the park's border with Mozambique and represents one of the few remaining unexplored territories in Africa, where unique wildlife populations, including famously large prides of lion, thrive.
By
Justin Fox