Johanna 1682
The Johanna (Joanna) was the first English East Indiaman to be wrecked on the South African coast, on her outward-bound journey from the mouth of the Thames, in the company of four other trading vessels all destined for Bengal. During a dark, misty but otherwise tranquil night she lost the other ships and 'calmly' sailed into the southern tip of Africa, at Die Dam, near Quoin Point just west of Cape Agulhas.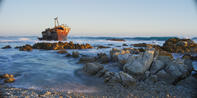 ©Robert Hofmeyr
The thing about this ship was that, although headed for the East, she was heavily laden with bullion - some 70 chests of it. When Governor Simon van der Stel heard of the wreck he dispatched Ensign Olaf Bergh to see what could be salvaged.
Bergh returned to the castle with a king's ransom worth of loot. In the early 1980s, before legislation was introduced to protect all historic wrecks, divers pulled out 23 000 coins, several tons of silver bullion and 44 iron cannons.
Nossa Senhora dos Milagros 1686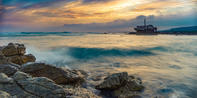 ©Robert Hofmeyr
The Milagros was a Portuguese ship headed from Siam to Europe carrying ambassadors and gifts intended for the kings of Portugal, France and England. Like so many treasure ships of the time, she foundered on the coast near Cape Agulhas and lost nearly everything. As with the Johanna, Governor van der Stel sent Olaf Bergh to salvage what he could, but this time he helped himself to some of the loot. Unfortunately for him, Bergh and his men were caught out, sentenced to three years' imprisonment on Robben Island and then exiled to Ceylon.
But the story continues… In 1981 treasure diver Charles Shapiro zeroed in on the wreck. His magnetometer readings pointed to under the sand in the surf zone at Struisbaai, which was confirmed by finds made by beachcombers Jan and Ingrid van der Merwe, he an ex-diamond diver. In 1993, with the help of an underwater 'blower', various artefacts of soapstone, ivory and porcelain were recovered, which, together with the Van der Merwes' artefacts, helped to positively identify the wreck.
By
David Bristow