Lavish Safari Experience
Shamwari Game Reserve, located in the Eastern Cape, is about 75 km from Port Elizabeth. It prides itself on being one of the most successful private conservation initiatives in Southern Africa, offering responsible tourism and a lavish safari experience.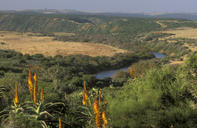 ©Roger de la Harpe
Being a renowned conservation area, a large variety of mammals and bird species are guaranteed to be spotted, including the Big 5. The bushveld can be experienced by accompanied game drives and birding. Children are accommodated on their very own children's safari and can be taken to the various centres to learn of animal conservation, rehabilitation and awareness.
The reserve presents a variety of accommodation options, including lodges, tented lodges and a manor. For the more leisurely safari experience, spa treatments and fine bush-dining are available. Shamwari Game Reserve is in a malaria-free area and welcomes the whole family.