Staying Safe While Travelling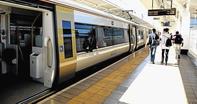 While South Africa is a beautiful country with a lot to offer visitors, unfortunately, crime, as in all countries in the world, is a harsh reality that you need to keep in mind when travelling. As long as you use your common sense and abide by a few safety precautions then you'll be able to enjoy your trip hassle-free.
At the Hotel
When you book in or out of a hotel you should never leave your luggage unattended. Once booked in, it's highly recommended to store any valuables, such as your passport or jewellery, in the hotel's safe.
Keep your hotel room locked at all times and if someone knocks at the door, check who it is before opening. Whenever you leave the hotel hand in your room keys at the reception desk to avoid losing them while you are out and about enjoying yourself.
In the Street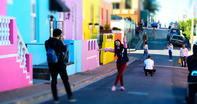 ©Eric Miller
Tourists visiting the BoKaap area of Cape Town.
At all times, you should avoid obvious displays of expensive jewellery, cameras and other valuables and never carry large sums of money around.
The most important thing to remember when walking in the streets of cities and towns is to remain vigilant and be aware of your surroundings. While it's always nice to explore an area on foot, it may be safer to ask your hotel reception for a trusted bus or cab service, or of course, there is always an app-based travel service available.
Never walk around at night, especially in dark and deserted areas. If you are out at night make sure to stick with a group of people and only walk along well-lit, busy streets. If ever you get lost - day or night - then a policeman or traffic officer will be glad to direct you.
Driving
Driving is one of the best ways to explore any new area, however, to avoid getting lost it's important to plan your routes in advance and to find out about the safety of the area beforehand.
No matter where you are, make sure to keep your doors locked at all times and to keep the windows up. Never keep any valuables on the car seat next to you while driving, rather hide them or lock them in the boot (trunk) of the car for safekeeping. At night make sure to park in well-lit areas.
It's never a good idea to give strangers a lift, no matter how desperate or nice they may appear.
Aquatic Safety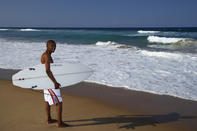 ©Roger de la Harpe
The local watersports enthusiast will know the water conditions and dangers better than anyone.
South Africa is famous for its long and beautiful coastline, which offers an array of different surfing conditions. Ask local residents about where to swim and surf and how far to swim into the ocean, as there may be strong currents to look out for.
The most popular beaches have lifeguards and the beaches along the KwaZulu-Natal coast have shark nets. Stick to these areas and you should be fine.
Dangerous Animals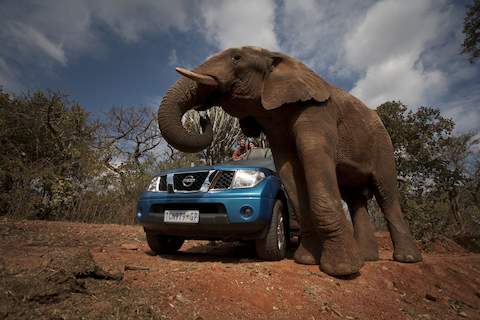 ©Jacques Marais
Wild animals, like humans, have a personal space, into which encroachment can feel threatening or uncomfortable.
Remember when visiting the bush that you are in the wild and in the home of wild animals. If you take the right precautions, obey the general rules and respect the wildlife, you should have a wonderful time.
Most incidents in the wild involve humans wanting to get close to animals for photos or trying to feed them. Do not feed any wild animals. Remember that wild animals attack only if they feel threatened and in danger so respect these animals and their home and they will respect you.