Apprentice Extraordinaire
Primrose Talakumeni was born in 1940 and grew up in the Transkei. After completing her primary education, she came to Cape Town and spent most of her adult years as a domestic worker. Talakumeni became involved with the United Women's Congress, an organisation that was founded by ex-Federation of South African Women (FEDSAW) members in the Western Cape.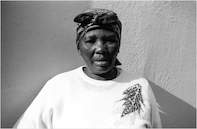 ©Tracy Derick
The organisation took women's and children's rights to heart and campaigned for better childcare, bus fare increases and defence against apartheid police brutality.
The United Women's Congress inspired oppressed women to take against issues that most effected their lives during the struggle for liberation.
Through the United Women's Congress, Primrose Talakumeni started taking pictures of the women of the organisation, and her home environment.
She participated in a media course at the Community Arts Centre Project in 1989. In 1993, she obtained a diploma course in photography at the Cape Town press centre. She also worked for the African National Congress (ANC) media unit during the 1994 election campaign.