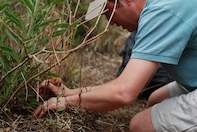 Jean-Francois Sobiecki collecting herbs.
We live in a world increasingly under pressure from stress and the excessive use of computer technology that is over stimulating us. Therefore, there is a great need for us to re-balance ourselves through holistic practices such as meditation, yoga, and reconnecting to nature and learning about the healing properties of food and medicinal plants.
My passion is to teach people how to use food and medicinal plants, that has inspired me to create a series of Online Courses on Herbal & Shamanic Plant Medicines, to learn about tonic and relaxing remedies to improve your health and well-being.
The knowledge I share in these courses is not ordinary text book knowledge but experiential knowledge I have gained from working with traditional medicine healers, herbal medicine and clinical nutrition in the field of wellness for over 15 years, together with finding the latest medicinal plant research and importantly, having gone on an Personal Journey of Healing and Self Development myself.
What You'll Learn in My Courses
How plants heal. How to use plant food as medicine.

An overview of immune boosting, anti-inflammatory, cholesterol lowering and mood uplifting plant foods e.g., for relaxing the nervous system & improving your health and wellness.

The study of medicinal plants: their chemistry, uses and preparations. Examples: Artemisia afra -African wormwood (Umhlonyane (Zulu), Leonotus leonurus (Wilde Dagga), Withania somnifera (Ashwaghanda) and numerous others.

The fundamental principles of holistic medicine & healing

How shamanic plants like Ayahuasca, San Pedro and Psilocybe Mushrooms are used for healing and self development.

Many health tips and insights to increase your well-being and health.

Jean Francois Sobiecki. B.Sc Hons, (Ethnobot). Dip Clin Nutr (Aus), offers all his Online Herbal Medicine Courses on http://phytoalchemy.co.za/faq/