Headscarves
Xhosa-speaking women and men traditionally wore elaborately tied headscarves decorated with stitched patterns. The extravagant styling of these scarves appears to have been inspired by the bonnets of Victorian women.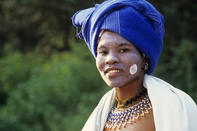 ©Roger de la Harpe
Like some rural communities in South Africa that used feathers to adorn their heads, these Victorian women commonly decorated their bonnets using bows and flowers. Some of these bonnets were also adorned with feathers.
Winnie Mandela's Headscarf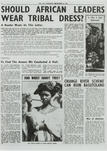 News clipping from the New Age newspaper, September 13 1962.
The efforts of the African National Congress (ANC) to mobilise popular support through cultural symbols can be traced to the 1920s when it sought to transform itself from an organisation serving the interests of an educated black elite into a mass nationalist movement by adopting a flag and the anthem, Nkosi Sikelele iAfrika.
But it was only in the 1940s that the adoption of local forms of dress became part of a larger anti-colonial struggle. In the early 1960s, when Winnie Mandela signalled her cultural and political alliance by wearing a Xhosa-style headscarf and beads, she insisted that "We are not going to rub off our culture and traditions because of the fear that the Nationalists will make propaganda use of them."
Even so, some people continued to worry that adopting traditionalist forms of dress would play into the apartheid state's efforts to use so-called tribal differences to sow division among leaders of the liberation struggle.
Snuff Spoons as Hair Ornaments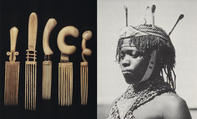 Snuff spoons, normally carved from bone, were commonly used to adorn the head. At once functional and decorative, they were usually embellished with designs gouged onto the surface.
Soot and fat was rubbed into these incisions to accentuate the designs. Examples with forked ends were used as combs in dressing the wearer's hair. These snuff spoons attracted the attention of a number of early travellers and missionaries, one of whom noted that some were also carved from ivory. Spoons of this kind were also used to clear perspiration from the forehead.
Earplugs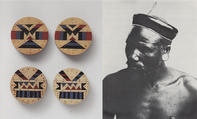 In the 19th century earplugs made from bone often doubled up as snuff containers and ear-piercings played an important role in certain rites of passage practised by Zulu-speaking communities.
The ear lobes of young people were gradually stretched for this purpose. In the course of the 1960s, the early 20th-century practice of decorating these plugs with pieces of Bakelite was abandoned in favour of the use of Perspex.
Because people began to associate the stretching of earlobes with a lack of sophistication, these plugs were eventually abandoned, but there has recently been a revival of interest in older forms of dress and adornment, leading to the production of clip-on earrings that look like earplugs.
By
Professor Sandra Klopper