Zulu 'claw' necklace 19th century Material: Glass beads, horn, and fibre Width: 16 cm Because leopards were regarded as symbols of power and regal authority, necklaces made from their claws were reserved for use by kings and chiefs.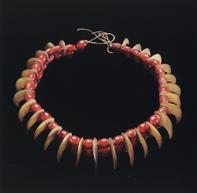 ©Heini Schneebeli
Horn and bone facsimiles of these prestige items were also worn by other important individuals. In the 20th century, many were treasured as heirlooms. This example has finely carved claws worked in a light coloured horn. The claws are strung between sets of unusually large red glass beads, which were reserved for royalty at least until the destruction of the Zulu kingdom in 1879.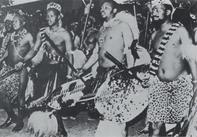 Claw necklace worn at the unveiling of the Shaka memorial near present-day KwaDukuza in 1954.
South Africans now celebrate 24th September as Heritage Day. Starting in 1954, Zulu-speakers originally commemorated this day as Shaka Day to mark the anniversary of the death in 1828 of the first Zulu king who was fatally stabbed by one of his followers.
On the second day of the 1954 unveiling of the Shaka memorial, then Zulu king Cyprian, his cousin Mangosuthu Buthelezi, and other members of the Zulu royal family revived the practice of wearing leather garments to commemorate events like these. Although these garments were newly made, the leopard claw necklaces some of them wore were heirlooms that had belonged to their forebears.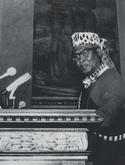 Chief Albert Luthuli, then president of the ANC, receiving his Nobel Peace Prize in 1961 wearing a claw necklace.
Probably in part because he believed that African cultures were in danger of being undermined, Chief Albert Luthuli, president of the then banned African National Congress (ANC), worn both a leopard skin hat and a leopard claw necklace when he went to Norway to accept the Nobel Peace Prize in 1961, a year after it was awarded to him for advocating non-violent resistance to racial discrimination in South Africa.
The author of "Let my people go", which was first published in 1958, Luthuli said in his acceptance speech that he considered the award "a recognition of the sacrifices made by the peoples of all races in South Africa particularly the African people who have endured and suffered so much for so long."
By
Professor Sandra Klopper