The Manyeleti Game Reserve borders the Kruger National Park and lies between the Sabi Sands and Timbavati Reserves. Manyeleti Game Reserve lies upon 23,000 ha of untouched land that is home to around 105 mammals and 450 bird species.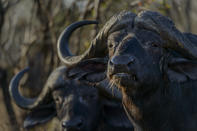 ©Roger de la Harpe
Manyeleti Game Reserve is a prime destination for game viewing in South Africa, with a rich biodiversity that offers breathtaking backdrops to your safari adventure. Manyeleti Game Reserve shares unfenced borders with the Kruger and Sabi Sands allowing a wide variety of animals to roam freely onto its lands. The Big Five frequent this reserve so you are sure to spot lion, leopard, buffalo, elephant and rhino on your safari game drives. Regular wildlife also include baboons and hippo.
Plains animals such as giraffe, zebra and various buck also roam these lush lands. Children are welcome at Manyeleti Game Reserve, which means family safaris are possible. Varieties of fantastic accommodations are available on the reserve for all types of travellers and visitors wanting to experience the wildlife in South Africa. Main activities at Manyeleti Game Reserve include game drives, bush walks, bush dining, hiking, photographic safaris, birding and a special safari programme for the kids.
Manyeleti Game Reserve was originally the home of the Mnisi people, who were displaced when the land was divided up into five farms and sold off to white investors....
more