The Importance of Respect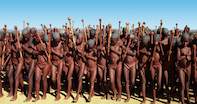 It is common for initiates, including Bantwane boys, to cast their eyes down as a mark of deference. Inculcating respect for elders pays an important role in the initiation process.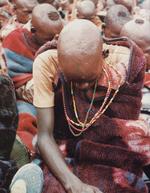 While returning Batlhping initiates also bow their heads in respect, for some the temptation to take sneak views at their elders - and in this case, also the photographer, Peter Magubane - is too great to avoid.
Like initiates elsewhere, Pedi boys are overseen by an initiation master who plays a crucial role in these rites of passage. He is usually responsible for circumcising the initiates, and for educating and disciplining them. Initiates must conform to his demands at all times.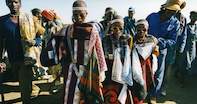 When South Sotho initiates return to the community, they commonly wear dark glasses, not only to signal their status as adults, but also to underline their respect for others by avoiding direct eye contact.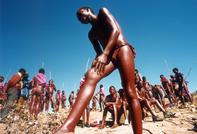 Because of the secrecy surrounding initiation ceremonies, it is unusual for photographers to be allowed to photograph initiates before they return to their communities. The publication of photographs of this kind has in some cases led to controversy.By
Professor Sandra Klopper