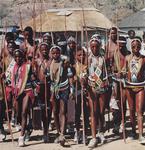 ©Dr Peter Magubane
Although they attend different initiation lodges, both male and female initiates wear large quantities of beadwork on their return to the community. In the past, this beadwork was usually made by their mothers.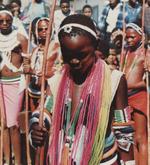 ©Dr Peter Magubane
Unlike glass beads, plastic beads are not heavy, and they are also comparatively inexpensive. This helps to explain why brightly-coloured strings of plastic beads are now frequently worn by initiates on their return to their communities.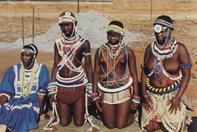 ©Dr Peter Magubane
When participants from many communities are involved in initiation, longstanding cultural interactions between neighbouring groups like the Pedi and the Bantwane may be seen in the styles of the beadwork.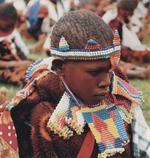 ©Dr Peter Magubane
The widespread practice of using larger plastic beads has encouraged the development of innovative patterns and colour combinations. Garments like these are now often made by beadwork specialists.
©Dr Peter Magubane
It is still common for the beadwork given to South Sotho initiates at their coming-out ceremonies to include items made from small glass beads. These beautifully-fashioned garments are complemented by the initiates' blankets, and by other items such as leather belts and woollen tassels.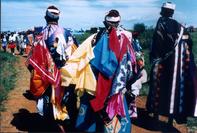 ©Dr Peter Magubane
The gifts initiates receive at their coming-out ceremonies often include colourful scarves. South Sotho initiates commonly wear multiple scarves in combination with beadwork, blankets and towels.By
Professor Sandra Klopper