Aah, Langebaan … few towns in South Africa exude as much of a beachy-breakaway feel as this spread-out dorp shimmering along the West Coast shores. You could just as well be stepping onto a Greek island when you wander down to the beach from your chalet here: indigo skies, turquoise seas, colourful fishing boats, and beach bodies galore.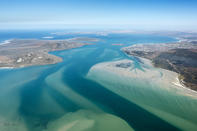 The gorgeously Mediterranean aerial view of Langebaan Lagoon and towards the ocean. Western Cape, South Africa.
Virtual year-round summer, safely shelving water perfect for water sport and consistent winds means Langebaan rates as a world-class wind sport destination, with kite boarders, wind surfers and the yachting set congregating here from around the world. The tidal estuary in Langebaan is the focal point for many of them, and on weekends the sky is a colourful melee of sails and kites. The tidal mudflats attract a vast range of migratory birds annually, while resident species include the Greater and Lesser flamingo.
The world's largest breeding colony of Black harriers also occur in the area, and it is therefore no wonder Langebaan is an internationally acclaimed RAMSAR site. And yes, you've guessed it – the climate is gorgeously Mediterranean.
By
Jacques Marais