Remains of Ancient Society
On 8 April 1933, a remarkable discovery of a grave of unknown origin, filled with goldwork, was made on the summit of a natural rock stronghold Mapungubwe.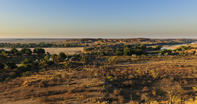 ©Roger de la Harpe
The remains of this ancient society, now known as the Kingdom of Mapungubwe, lay forgotten for more than seven centuries. This site was Mapungubwe Hill and it tells the story of a flourishing Iron-Age metropolis on the Limpopo ruled by an African King almost a thousand years ago.
A visit to Mapungubwe Hill, the place where archaeologists excavated the famous golden rhino, and the amazing interpretation centre near the main gate, home to the Golden Rhino, is a given!
By
Jacques Marais