Rock Formations with a Pool
Kagga Kamma is in a wilderness area in the southern Cederberg with a number of campsites and the elegant Bushmen Lodge set beneath a series of rugged rock formations with a pool and lantern-lit lapa.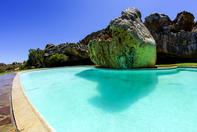 ©Jacques Marais
Rock formations with a pool.
Kagga Kamma Nature Reserve offers unique excursions and fun activities such as rock art tours, guided nature drives and quad bike safaris, hiking trails and stargazing at the mini observatory. More sedate options include lounging at the resort's swimming pool while marvelling at the surrounding rock formations, wellness treatments at the spa or enjoying a sundowner.
Wilderness up Close and Personal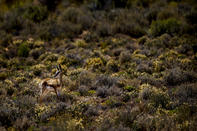 ©Jacques Marais
Wilderness of Kagga Kamma Nature Reserve.
Tramp onto Kagga Kamma's network of self-guided hiking trails and walks if you want to experience the magic of this wilderness up close and personal.
Miniscule fynbos blooms, conophytums and lichens growing upon barren sandstone outcrops, the 'kelkiewyn' call of sandgrouse … regenerate your soul as you wander amid the rock scapes. There are three routes to choose from, ranging in distance from 4km to 9km, offering a great trail-running opportunity as well.
Mountain Biking Routes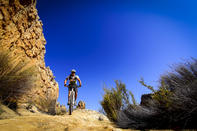 ©Jacques Marais
Mounting Biking Routes, Kagga Kamma Nature Reserve.
Mountain bikers have a fantastic opportunity to crank onto a 30km-plus network of routes within the reserve. Both the Red Trail (10km) and the Black Trail (30km) start from the main lodge area, initially along a short stretch of jeep track before you turn right onto the quad-bike trail.
Although quite sandy in places, the red route is flat enough to suit average riders, while the longer 30km option will give more advanced mountain bikers a good workout. Your total ascent is limited to just on 300m along the latter route, so expect to spend a good 2–3 hours in the saddle. Running is good on the hiking trails, as well as on the mountain-biking routes, and these provide varied terrain with a combination of sandy and gravel sections, and breathtaking scenery.
4x4 and Wildlife Encounters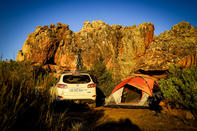 ©Jacques Marais
4x4 routes and wildlife camping, Kagga Kamma Nature Reserve.
If you are keen to explore Kagga Kamma in your own off-road vehicle, their 4x4 route of more than 100km is sure to entice you. Magnificent views across mountain fynbos plains towards the Cederberg ranges will unfold as you navigate river crossings, rugged ascents and other natural obstacles.
Although there are only limited numbers of larger mammals on Kagga Kamma, interesting wildlife encounters are just about guaranteed. The wilderness camping options along the 4x4 route are superb.
Golf on a Saltpan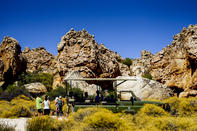 ©Jacques Marais
Anyone keen on smacking a ball? This is definitely not your run-of-the-mill golf course; instead, you get a bucket of 50 balls and a golf club, and then head onto the saltpan en route to the gate. Nobody will know if you keep your head down and force!
A Superb Astronomical Destination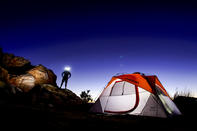 ©Jacques Marais
Kagga Kamma's crisp and clear air, relatively high elevation and the lack of incidental light make it a superb astronomical destination. The mini observatory allows guests to enjoy exceptional views of the southern skies through a mounted 10-inch telescope, while a guide will share details on anything from lunar craters and comets to deep space objects.
If you do not have a Sky Map or Star Chart app for your phone, download one before you leave home. These amazing visual recognition apps allow you to point your phone at the night sky, and will tell you exactly which constellation you're looking at.
By
Jacques Marais