A Scenic Escape
The San people roamed the high reaches of the southern Cederberg over 6 000 years ago and one still gets a sense of their earthy spirituality encapsulated within the rocks and upon the fynbos plains of the Kagga Kamma Nature Reserve.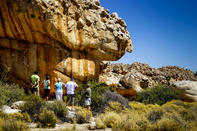 ©Jacques Marais
San rock art viewing, Kagga Kamma Nature Reserve.
The area is part of the Swartruggens Conservancy, and forms a bridging biome between the Cederberg and Ceres-Karoo. The reserve itself is a premium establishment and primarily markets itself to well-heeled South Africans and a predominantly international clientele.
The stunning campsites and luxury accommodation at Kagga Kamma have somehow remained a well-kept secret and this, as well as wild camping along the 4x4 route, makes this stunning reserve accessible to a much wider range of tourists.
The high-altitude fynbos plains – at nearly 1 400m above sea level – provide Kagga Kamma with a cooler climate than the rest of the Cederberg.
Heather species and restios dominate the floral landscape, while plains game such as Burchell's zebra, eland, kudu, blue wildebeest and smaller antelope species flourish in the cooler climate, while the elusive Cape leopard, aardwolf, caracal, aardvark and striped polecat are very rarely spotted.
Reserve staff, however, do keep track of them via a range of motion-sensor cameras on the reserve, as well as regular kills and spoor.
Expect the winters to be freezing at this altitude, so come prepared with proper cold-weather gear. The best route is via Ceres - 90km from reserve - and should take two hours from Cape Town.
By
Jacques Marais