Sabi Game Reserve
After the 2nd Boer War's conclusion in 1902, a new kind of order came to the Lowveld with the establishment of the Sabi Game Reserve, forerunner of the Kruger National Park.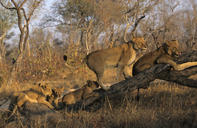 ©Nigel Dennis
Lion pride, Kruger National Park.
Its first warden appointed after the conclusion of the second Boer War, was a feisty Anglo-Irishman, Colonel James Stevenson-Hamilton. He had much in common with Jock of the bushveld: both were small and compact, fearless and irrepressible. Once either of them had fixed on their target, nothing and no-one could make them back off - although many tried, to their detriment. When the retired army officer arrived in the park he had two sensations, he recalls in his memoirs.
One was that of reaching an earthly paradise (he called his autobiography A South African Eden and the park was his Cinderella that became a princess).
The second was, where game should have been teeming, he found the area almost entirely denuded of wild animals. It took some decades for the game to return, but it did, and today the park is the crowning glory of African conservation. However, when he arrived the new warden had no idea what to do with all that wilderness; the idea of conserving game for its own sake was so novel it struck many as an abomination.
A Light Bulb Moment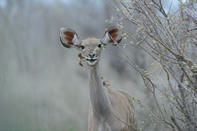 ©Shem Compion
Female Kudu, Kruger National Park.
Stevenson-Hamilton writes: "My mandate had been vague, general, and verbally conveyed to me by people who were nearly as ignorant of the conditions prevailing as I was myself.. . with instructions to convert it as soon as possible from its time-honoured status as a hunter's paradise into an inviolable game sanctuary."
Nevertheless, the warden and his staff went about their task with great zeal if not always by standards we would today approve. In the first two decades, he and his rangers spent most of their time shooting large predators, which killed the "royal game" or antelope. Only later did the idea of a functioning wild ecosystem with all predators and prey in balance begin to develop.
In 1905 Stevenson-Hamilton became aware of the new American parks system, particularly Yellowstone; about which he read everything he could find. That was when he had, what we today would call, his light-bulb moment: "his" game reserve was being protected for its natural beauty and its intrinsic worth as a natural system, but it was a hard road to convince others who could not understand why the government should spend thousands of pounds each year to protect game.
Inherent Value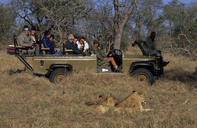 ©Nigel Dennis
Tourists on a game drive, Kruger National Park.
Like the American parks, he realised, it was also for other people to enjoy, that they too might see that inherent value and come to love and protect it. And so it came to pass.
Along that road, he made many powerful enemies, from policemen to politicians, whose trigger fingers itched at the chance to go hunting there. Stevenson-Hamilton even succeeded in convicting one very influential poacher. Then, after two decades of hard toil, the tide began to turn.
In 1923 the South African Railways hit on the plan of running a tourist train through what was then the Transvaal province. It originally planned to pass through the park at night, but the wily warden found a way to divert the train there during daylight. Nobody was more surprised than the systems manager of the railways when the game reserve turned out to be the highlight of the nine-day tour.
So much so that over the years overnight stays were included, with roaring campfires, sing-alongs and talks by rangers. Finally, the park had found a following of people who were content to watch animals in the wilds rather than wanting to shoot them.
The First National Park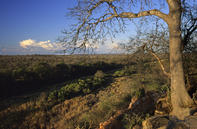 ©Nigel Dennis
Kruger National Park, view of bushveld in the Timbavati area.
This did much to push through plans to gazette the Kruger Park as South Africa's first national park in 1926. The park should really have been named in honour of Stevenson- Hamilton, for without him it would never have lasted the course of the many-sided assaults. In the end, in a cunning act of political expediency, it was named after the Boer hero President Paul Kruger. Kruger was never a friend of conservation himself but his name would rally the conservative politicians of the day to the cause of nature conservation.By
David Bristow